News from Refugee and Newcomer Supports Program
First Summer Program for Newcomer Students Wraps with a Celebration
The summer program for newcomer students is part of a grant awarded to the APS Education Foundation by the W.K. Kellogg Foundation.
On Wednesday, July 13, 2022, the APS Newcomer & Refugee Supports Program and Lutheran Family Services hosted their Summer School Celebration Day at Highland High School. 
Mohammad Ismail who serves a Refugee Case Manager at APS stated that students found the five-week summer program that included classwork and hands-on activities meaningful because they could not access other summer school programming due to the language barrier.  
Superintendent Elder joined in celebrating the students, and told the attendees that he started in APS at Highland High School in 1991 as an English as a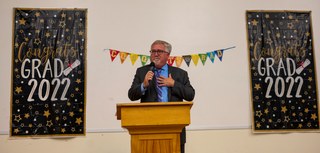 Second Language (ESL) teacher.  He encouraged the students by saying that he has seen his first students grow to build successful careers and raise families.  He said that a bright future awaits the students in this program.
Abobakar Aziri, a sophomore at Del Norte High School who arrived from Afghanistan on August 28th of last year, spoke at the event.  When asked what his favorite part of the summer was he said, "The whole summer program was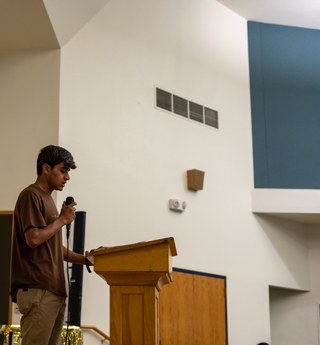 my favorite – gathering together, studying, having fun – it was all good."  He said that the program had helped him prepare for the next school year saying that when he entered high school it was hard to know the teachers and their expectations.  "This [program] helped us solve our problems.  We know how to study, how to learn, how to know the teachers, how to know the students, how to behave, how to do everything, it's really helped us." 
The event included song and dance performances by the students.  Their contributions to the celebration reminded guests that music and art are a shared language.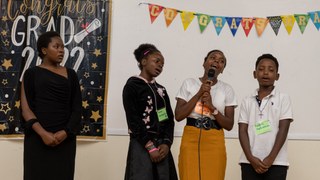 After the speeches and performances, the students received their certificates of completion.   The event hit a high note when Antonio Baca, the APS Newcomer and Refugee Supports Program Manager, handed certificates to the teachers, specialists and staff.  As each name was called, the lecture hall filled with screams and cheers as students gave standing ovations to their educators. 
Mr. Aziri said, "At first when I came here, I thought it would be difficult to start a new life, but over time, it gets easier, knowing the people, knowing the culture, knowing the language.  This helps us especially when we go to school,
because it helps us communicate with other kids our age.  Right now, I am happy; I'm good that I'm here.  Thank you for all of this."
Masod Nawab Zada, a 7th grader, enrolled in Jefferson Middle School in January of 2022 after moving from Afghanistan.  He also spoke to the guests about the summer program, saying, "My experience was very good, I am happy to see all of you.  Welcome."  He thanked his teachers for their patience and guidance adding, "I'm so happy.  My best day in my life, my best day in the world is this graduation day."