News
Truancy Blitz Sparks Critical Conversation
When Albuquerque Public Schools asked the city to come together to tackle the stagnating problem of truancy, the community showed up.
APS just wrapped up its first ever Truancy Blitz, a three-day event designed to educate the public about the realities the district and the rest of the city face daily in dealing with the problem.
Truancy is an issue Interim Superintendent Brad Winter has said he wants to focus on while given the opportunity. "I don't think most people know how serious the problem of truancy is, how deep the impact is felt and most importantly that it really is a problem we can solve together," said Dr. Winter.
The event kicked off Thursday, Jan. 22, with an Attendance Summit co-hosted by Mission Graduate. Community leaders representing non-profits, education institutions, government agencies and others spent an entire day exploring the challenges and possible solutions. Those attending heard compelling testimonials about the factors that lead to students missing class. They exchanged ideas and practices of strategies already showing positive results.  And they all agreed to work together more closely in the months and years ahead so everyone is on the same page.
The following day, Friday, Jan. 23, APS truancy specialists took to the airwaves to answer questions, offer advice and just listen to people who had something to share. KRQE 13/2 KASA hosted a three-hour phone bank to bring viewers into the conversation. Stricter consequences for truancy was a common theme, and there were those willing to get personal in hopes their feedback would matter.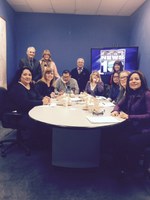 "One female caller said she dropped out in 9th grade. She said she was experiencing traumatic events at home and had no support whatsoever from the adults in her home and school life," said Velinda Pearson, an APS Truancy Prevention Social Worker. Pearson says the caller went on to express her support of the APS awareness campaign on truancy because she believed it would make a difference.
Manzano High School hosted the final event, a Truancy Town Hall, Saturday morning. People from every walk of life attended to again learn about the issue, what's being done about it and what role they could play in the effort. In addition to those in attendance hundreds joined in on a live twitter discussion during the town hall.
The APS Team will post some of the presentation and feedback from the blitz on the district website. All of the information will be reviewed and an action plan will be created and shared with the public. Anyone still interested in providing feedback may do so at kristine.meurer@aps.edu.