News
Students Celebrate New Mexico Centennial
School projects involve state's 100th birthday events
Van Buren art students created cutout pyramids covered with historic photos for the states 100th anniversary.
Quick, what's the name of the New Mexico state song?
The state's centennial anniversary provided a learning opportunity for Albuquerque Public Schools students contributing to local events last week as New Mexicans celebrated 100 years of statehood.
Art students at Van Buren Middle School made three different kinds of ornaments including origami swans with photos of historic buildings on them. Art teacher Larry Anzures had his classes create 120 of the ornaments that were given away to attendees of ABQ Ride's celebration at the Alvarado Transportation Center downtown.
The students also made cutout paper pyramids and yarn projects called "ojos de Dios."
The Albuquerque Historical Society sponsored a celebration at Taft Middle School, attended by students and a number of state legislators. The site was chosen because President William H. Taft signed the proclamation that brought New Mexico into the union on Jan. 6, 1912.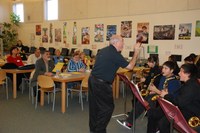 Students in the AVID (Advancement via Individual Determination) program presented a series of facts about the state and Taft based on research they had done, and read the proclamation aloud. The school's jazz band performed and led the crowd in a rendition of "Happy Birthday."
Though the anniversary is a once-in-a-lifetime occurrence, the centennial observance will continue throughout the year. Lesson plans about New Mexico's history are available to teachers from a variety of sources.
By the way, the state song is "O, Fair New Mexico," adopted in 1917.