News
Monte Vista Student's Pumpkin Featured in Halloween Edition of Highlights
Nena Dorame's drawing was published in the national magazine nearly a year after she submitted it.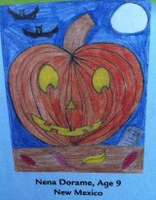 Nena Dorame drew a pretty good Jack-O-Lantern last year for Halloween. So good, in fact, that the then-fourth grader at Monte Vista Elementary decided to submit it to Highlights magazine, which features student artwork from around the country each edition.
Nena's dad Doug, the athletics director at Albuquerque High, took her to the post office where they got an envelope and stamp and shipped the colorful drawing to the magazine.
A month later, she got a rejection letter. Nena was a little disappointed, but the young artist shook off the experience and quickly forgot about the pumpkin.
Until this summer when, right around the Fourth of July, Nena got another letter from Highlights, this one saying that her masterpiece would be featured in this year's Halloween edition.
"She was so excited," Nena's dad recalled. "It was a big moment for her. We love Highlights."
There was only one small problem. When she submitted the pumpkin drawing, Nena was only 9, which is how the magazine identified the now 10 year old.
But Nena didn't mind much. She shared the publication with her big sister, Dinee, a 2011 AHS graduate, who proudly showed it to her roommates at Yale University.
Nena's budding artistic talent is influenced by her big sister and also her mother, Monica, a librarian at UNM.
"Nena's an excellent student and she loves art," her dad said. "She loves to draw and paint in her free time."