News
Posted:
September 4, 2014
Elementary PE Teacher Organizes Swim Meet
Students participate in after-school swim meet to celebrate the joy of swimming and physical fitness.
Karen Schoepke took a lesson she learned Down Under and made it relevant in the Northeast Heights.
Inspired by swimmers she student-taught in Australia, Schoepke helped organize the first S.Y. Jackson All-School Swim meet in late August. With more than 40 swimmers in first through fifth grades, the event was a runaway – or was it swimaway? – success.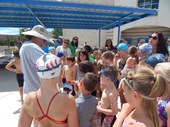 "I wanted to create a program that highlights physical fitness and wellness for all ages and abilities," said S.Y. Jackson's first-year PE teacher, Karen Schoepke. "I did my student teaching in Australia, and basic swim skills were taught as a fundamental lesson early on to students to help them gain confidence and overcome fear around water. I was inspired."
Swimmers were able to participate in one of two divisions: Rabbit or Cheetah. The Rabbit division was designed for students who were new to swimming and had not been a part of a swim team.  The Cheetah division was designed for students who had participated in a swim team setting before and  were able demonstrate strong swimming technique.
Students were able to participate in up to three events including:
Individual Events: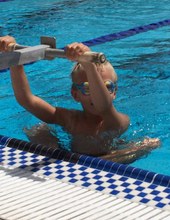 25m Freestyle
25m Breaststroke
25m Backstroke
25m Butterfly
Team of four swimmers relays:
Freestyle Relay
Breaststroke Relay
Backstroke Relay
"Swimming from one end of the pool to another is a huge accomplishment, and I wanted these students celebrate that and feel proud of that," said Schoepke.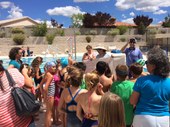 S.Y. Jackson's music teacher, Julie Rombach-Kendall, was the official swim meet starter. School "records" were set in each of the events for the Rabbit and Cheetah divisions.  Four school staff members, Chrissy Grady, Laura Talley, Jill Suo-Antilla and Brad Harberts, also joined in on the relays.
Schoepke hopes that this swim meet will become an annual event, and that next year, even more students and staff will participate.