News from the Education Foundation
Posted:
November 16, 2012
Wilson MS 6th Graders Enjoy the 2012-2013 SCIENCE CRAWL
Students visit the New Mexico Museum of Natural History and Science for a day of authentic learning of science standards.
Teacher Mary Erwin stands with Wilson MS 6th graders in front of Spike, the museum's stegosaurus.
The partnership between the museum and APS has resulted in many wonderful activities that support STEM learning in our schools.  Over 180 Wilson MS 6th graders were treated to many different science topics on November 15 and were able to experience a wide variety of content supporting common core standards and exciting hands-on learning.   Students moved through various activities that included the planetarium, fossil inquiry, and visits to both the Jurassic and Triassic Halls.  New Mexico's contribution to the field of paleontology was a focus as well. 
For example, hands on activities and a Jurassic Hall Worksheet focused on the Age of Super Giants.  Students constructed a food web out of plants and animals to discuss how dinosaurs behaved in life.   During the Triassic session, students learned about the state dinosaur, coelophysis, and lots of other facts about the Dawn of the Dinosaurs.  Ms. Mary Erwin, Wilson MS 6th grade science chair and contact for the event, said, "This partnership with the NM Museum of Natural History and Science is such an asset for us.  When we do our pre-test, I'm always so surprised how few of our students have been here.  What an opportunity for them!"  Ms. Erwin and the other participating teachers are pleased that Wilson MS has been invited back for the last several years.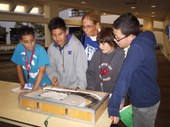 NM PBS is also a major sponsor of the Science Crawl which is intended to build interest and enthusiasm in the field of science for middle school students.   Admission and transportation for schools  is funded and the event supports the station's commitment to engage students in lifelong learning.  Other participants in Science Crawl annual events include the National Museum of Nuclear Science and History, the Albuquerque Aquarium and Botanic Gardens, and the Rio Grande Zoo.  Visits are designed so that students experience the exact NM science standards that are taught in the classroom through exciting hands-on activities.   Kennedy, Cleveland, Hayes, and Truman Middle School  students will experience Science Crawl later on in the school year.