News from the Education Foundation
US Forest Service and Rio Grande HS Partnership Focuses on Environmental Science and Sustainability
Environmental Education at Rio Grande is getting a big boost from the partnership with the US Forest Service. US Forest Service contact Lupe Rodriguez and RGHS Environmental Science teacher John Wright collaborate often to provide interesting and unique STEM opportunities for students.
RGHS students Luis Juarez and Jonathan Bernal enjoy a light moment during a presentation by USFS Law Enforcement Officer Krysia Baron as USFS partnership contact Lupe Rodriguez looks on.
Just last week students participated in a variety of workshops and presentations at the Earth Day at the Forest Service event at the federal agency's offices in the Journal Center.  Students were treated to a variety of presentations on topics like engineering/sustainability, landscape architecture, clean water, geospatial, fire fighting, social science research, Every Litter Bit Hurts, and the Jemez Mountain Landscape Restoration Project.   
Students also learned about the wide variety of careers and opportunities available in the US Forest Service.  RGHS students Luis Juarez and Jonathan Bernal listened in rapt attention as US Forest Service Law Enforcement Office and Fire Investigator Krysia Baron talked about arson investigations and the fact that 9 out of 10 forest fires are human caused.  Both young men were interested in career pathways leading to the US Forest Service.  Luis, a senior facing career pathway choices, said, "The experience was really cool.  I want to be in law enforcement and I learned a lot about fire investigations."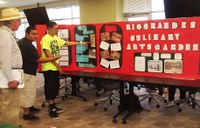 The RGHS students provided a display of their own, highlighting the People's Culinary Arts garden at the school.  The development of the garden was another collaborative activity between RGHS and the USFS.  Sophomore Jonathan, mentioned above, said  "We've been working hard on the garden and it has helped both the community and students to learn different skills."    The students learned from the day that all federal employees must model sustainability and how that applies to their community garden project. 
The US Forest Service and Rio Grande HS are partnering to promote environmental education, best forestry practices, and water conservation and also to give students information about the multitude of careers available.    Scientists and other personnel work with Mr. Wright and his biology and environmental science classes to augment classroom learning through participating in some projects tying academics to real world problems in the forestry and environmental science fields. 
A donation of $2,500 for water testing equipment to enhance science content and hands on activities was given to RGHS by the Forest Service in the fall.  
SLC Teacher John Wright had this to say about the relationship, " Our partnership with the Forest Service is off to a great start.  Already we have placed students in internship positions, they have sent us professionals to help with tutoring, and other Forest Service personnel have begun working with teachers on sustainability projects.  This collaboration will open up a lot of opportunity for our students in the coming years."