News from the Education Foundation
Tickets on Sale for 4th Annual A is for Art!
The gala/auction featuring student artwork and performers will be held from 5-9 p.m. on Friday, Sept. 20, at Hotel Albuquerque.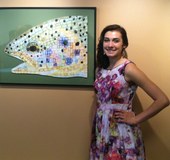 You've heard about the As.
Here are the Bs: Bigger, better, beautiful.
The fourth annual A is for Art! gala/auction is set for Friday, Sept. 20, at Hotel Albuquerque, and tickets are on sale now for the same affordable price: $25 per adult and $10 for students.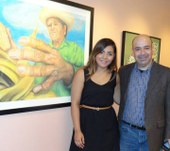 The event moves to spacious Hotel Albuquerque, with extended hours (5-9 p.m.) to allow for more elbow room and an extended silent auction of more than 200 pieces of APS high school student art. We'll also have plenty of time to hear from some of the top vocalists and musicians in the district – and get a special musical surprise (more on that soon!)
A is for Art!, presented by the APS Education Foundation, will begin at 5 p.m. with hors d'oeuvres and the opening of the silent auction, which will continue throughout the evening. The ballroom opens at 6:15 featuring our performing artists and special guests. And we'll also have edible art food stations, plus a photo booth and more.
And in the live auction? Stay tuned, but expect to see two of the finest pieces we've ever had: paintings by Rio Grande High School's Ana Oaxaca and Cibola's Sarah Wirtz. Their pieces are currently being displayed at the Court of Wills, Estate and Probate in the Bernalillo County building Downtown, courtesy of Judge Willow Misty Parks.
"We've been thrilled with A is for Art! in its first three years, and we'll keep the staples that make it great – fantastic student art and performances," said Foundation Executive Director Phill Casaus. "But some of our new wrinkles to the event will make it even more fun, because that's the key element – having fun while supporting students and fine arts programs in APS."
This year, the event is ticketless. Reservations may be made by logging on to the Foundation's web site at www.apseducationfoundation.org and clicking on the A is for Art! registration form. Or, you can stop by the Foundation's office at 6400 Uptown NE, Suite 630 East, from 8 a.m.-5 p.m. Monday through Friday, or by calling 881-0841. Reservations must be made by Sept. 13.
For more information, contact Casaus at 878-6165.