News from the Education Foundation
This is the Stool That I Built project connects 4th graders and Senior Citizen Woodworkers
Seeds of Learning mini-grant supports unit on Africa and school focus on community involvement at S.Y. Jackson Elementary School.
An S.Y. Jackson 4th grader works with his woodcarving buddy on a project with materials supplied by a Seeds of Learning grant.
Teacher Karen Schoepke applied for a Join-a-School Seeds of Learning grant to provide additional resources for a project related to her unit on Africa.  Four senior citizen woodworkers "stepped up" to create stepping stool pieces and help students paint and assemble them.   Each 4th grader had the opportunity to work one on one with the supportive seniors and create their own project.  The SOL grant assisted with lumber costs. 
Ms. Schoepke says, "My fourth grade class partnered with a group of senior citizen woodcarvers a few years ago.  Each year the gentlemen create woodworking projects for my fourth graders which coincide with our studies.  This year they helped the students create stools for our study of Africa."  Most of the students had never worked with power tools so this was a true learning experience.  Students also painted the pieces with African motifs under the guidance of their special woodworking "grandpas".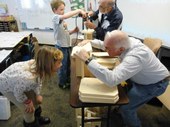 It is apparent that everyone involved benefits from the annual project, according to Ms. Schoepke.   The partnership is valuable to the students, but the senior woodworkers benefit from the experience as well.  The APS Education Foundation is pleased to fund projects that support meaningful community involvement, as well as school curriculum and Common Core Standards, through Seeds of Learning.