News from the Education Foundation
Spring Break Fun at Hinkle Family Fun Center
Start your spring break at Hinkle Family Fun Center on Monday, March 30, and support the APS Education Foundation.
Hinkle Family Fun Center and the APS Education Foundation are partnering on a Spring Holiday fundraiser that will help support APS academic programs.
APS Day at Hinkle Family Fun Center on Monday, March 30, includes unlimited play on all of its attractions (paintball and game room credits are extra) for $26.49 per person, with a percentage of all sales during the promotion going to the Foundation.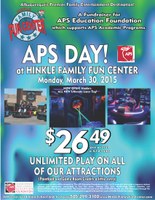 "You can't imagine how grateful we are to Hinkle Family Fun Center for its commitment to APS students," said Foundation Executive Director Phill Casaus. "APS day is on Monday, March 30, which is a spring holiday for APS families. This will give them a chance to have a day full of play for nearly $40 less than they'd ordinarily pay. It's an incredible deal."
To receive the discount, click on the link here and print out the attached flier, or show the flier on your smart phone. It will allow you to receive this special offering.
The Foundation supports a variety of APS academic efforts focusing on four key areas: Fine Arts, Science/Technology/Engineering/Math (STEM), Middle/High School Activities and Literacy. Hinkle, which has long supported APS as part of the Join-A-School program, also is a sponsor of Selfless Seniors.
Hinkle Family Fun Center, located on the northwest corner of Indian School and Tramway, offers two 18-hole miniature golf courses, bumper boats, a go-kart track, lazer tag, arcade games, paintball and many other features that make it a premier destination for kids and families.