News from the Education Foundation
Rio Grande HS Speech and Debate Team: Year of Success
APS Education Foundation Fall 2012 Horizon Award fuels excellence during the year and at end-of-season competitions. Speech and Debate activities are geared towards rewarding the best thinker, the best performer, the best overall, through a speech team curriculum that demands integration of academic abilities.
The RGHS Speech and Debate team, and two coaches, gather on the steps at Brown Hall at the Albuquerque Academy prior to competition.
The Rio Grande team attends between fifteen and twenty competitions annually, both in and out of state, during the competitive Speech season which runs from September through June.  Entry fees and travel make the cost of competition prohibiting without some sort of help or sponsorship.   Supplies for the team during the school year, such as interpretation scripts, magazines, newspapers, debate briefs, league memberships and even acceptable clothing for competition are necessary expenditures in the Speech and Debate world.  The Horizon award enabled the RGHS team to perform on an even playing field with other schools.
According to teacher and coach Michelle Lockhart-Henry, students' literacy and academic achievement is greatly enhanced through participation in this extracurricular activity.  In interpretation students read and act out the emotions of the characters they play, literally understanding the scripts and inferring emotional states.  Public Speaking events necessitate students researching current events, evaluating political policies and synthesizing opinions.  Debate competitors must differentiate fact from opinion and research philosophy and policy.  "On our team, it's mandatory for students to try each type of event there is in Speech and Debate.  Kate may not have enjoyed Congressional Debate herself, but she knows the work and effort Cherise had to put in to quality to Nationals this summer in that event," says Ms. Lockhart-Henry.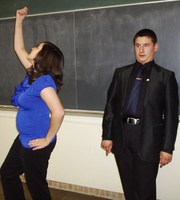 The Duo Interpretation competition at the recent National Forensic League New Mexico District National Qualifier was certainly lively.  RGHS 9th graders Kayla Gabrielle and Robert Leigh performed a selection from Dolorosa Sanchez by Stanley Takoff.  The students showed great poise while sitting through five other performances waiting for their chance to perform last and wow the judges with their ten minute selection.   Other performances included interpretations from Percy Jackson and the Lightning Thief and Coraline.
The ability of students to concentrate on practice and performance without the added stress of fundraising enables the team to spend 100% of practice time on performance activities.  The Horizon Campaign focus on middle and high school clubs and activities, in addition to literacy, fine arts, and STEM, and the $5,000 award to Rio Grande HS made a positive difference in the educational experiences of many students and allowed some to compete even though the fees and expenses were prohibitive. According to the NM Speech and Debate Association website, New Mexico has one of the most competitive speech and debate programs in the nation.  The APS Education Foundation is always pleased to fund innovative projects that encourage higher order thinking skills, academic achievement, and competition on a larger playing field.  Congratulations to the RGHS Speech and Debate Team for this year's accomplishments!