News from the Education Foundation
Operation Kidsafe Fingerprint Stations Coming to Albuquerque
The free service that captures children's pictures and fingerprints kicks off with a special event June 6-8 at Mark's Casa Auto Group locations.
More information on Operation Kidsafe
Operation Kidsafe and Mark's Casa Auto Group have announced they are bringing free permanent child fingerprinting stations to Albuquerque, beginning with a kickoff event on June 6-8 at three dealership locations in Albuquerque.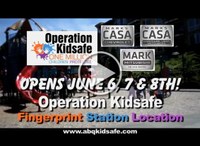 Operation Kidsafe equipment captures photo and fingerprints using a specialized video capture device and software. The data creates a quality printout that is given to the parent, who can use the printout to provide instant information to law enforcement officials during an investigation.
Safety tips also are provided to help families creation a safety action plan. No database or records of children are maintained. The only record belongs to a parent for safekeeping.
Operation Kidsafe, Mark's Casa Auto Group and a variety of partners, including the APS Education Foundation, are part of the grand opening. Go here for more information.