News from the Education Foundation
Horizon Campaign Helps Manzano Students Reach for the Stars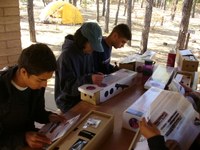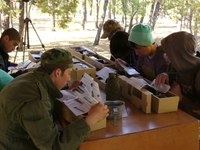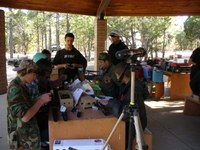 Kevin Jarigese tells his students at Manzano High School to reach for the stars. After all, they really are accessible – provided you're willing to work.
"Students," he says, "have the power to change anything they want in their lives."
Jarigese went about teaching those lessons this spring with the help of an APS Education Foundation Horizon Award. Through a competitive grant process funded by the Foundation's Horizon Campaign, he bought about 80 telescope kits for a project entitled "Galileo in the Classroom."
The "Galileoscope" kits, used by about 60 Manzano students, helped Jarigese teach lessons about astronomy, mathematics, and ultimately, leadership, because this was more than a "let's-construct-the-thing-and-point-it-into-space" project.
In essence, the students learned about the stars through the 60 mm-lens telescopes – what those bodies in space are and how they came to be. But Jarigese says his students also learned to be stars – productive kids who could think about excellence and achieve it at the same time.
"What kids always want is respect," he says. "What you're doing here, I told them, is generating respect. When people saw our students out at the Wilson stadium parking lot at 5 in the morning with the telescopes, they don't see kids screwing around. What they saw was a learned person who had knowledge, had something to offer. People respect that."
Galileo in the Classroom was a multi-layered project. Many days, Jarigese asked his students to arrive at school before dawn so they could take advantage of favorable starscapes. More often than not, the project drew attention from commuting parents and students who wanted to know why a bunch of teens would be peering into a telescope lens when most of their peers wanted to squeeze out another hour or two of sleep.
"What was really fun was when a parent would get out of the car and know what's going on," Jarigese says.
There was plenty more. Top students were invited to join Jarigese on a field trip to Manzano State Park, where they built the telescopes while learning about New Mexico's environment and heard presentations from professionals about futures in science.
The project drew so much attention, Jarigese says, that other funders want to help him grow Galileo in the Classroom and export it to middle schools in Albuquerque Public Schools.
The project clearly lights the fire of Jarigese, a passionate 27-year veteran of teaching, because it asks kids to learn about many things – not just one. It's the kind of effort old Galileo might enjoy – a melding of imagination and science. All these many years later, innovation really does get kids excited about learning more.
Looking up. Looking forward.
Jarigese ponders a moment when asked what Galileo might think about what they did at Manzano this spring.
"If he saw this going on, I think he'd want to sit down and take it all in," Jarigese says. "He'd see things going on that he generated."
The APS Education Foundation's Horizon Awards put tens of thousands of dollars into classrooms throughout the district in four main areas: Fine Arts, Science/Technology/Engineering/Math and Literacy. Key contributors include PNM, Technology Integration Group, Lockheed Martin/Sandia National Labs, Wells Fargo, the Larry H. Miller Foundation, Comcast and APS employees through the United Way Campaign. Anyone can help. For more information, contact the Foundation at 878-6165.