News from the Education Foundation
Posted:
November 15, 2013
Greenhouse Project Provides Work Experiences for VVHS Students
A team of Volcano Vista teachers encouraged the collaboration of several school groups to design and build a greenhouse that would provide work experiences for students with disabilities and also raise money for continued access into the community. The project was funded by the Spring 2013 Horizon Awards.
Volcano Vista teacher Andrea Prangley and APSEF Board Member Natasha Martell Jackson look at the plants in the raised beds that are a part of the collaborative project funded by the Horizon Awards.
Students from the Intensive Support Program, Emerging Communications Program, and Community Referenced Learning Program are involved in the growing, maintaining and selling of plants.  They also developed a business plan in the early stages of the project.  Teacher Andrea Prangley and co-applicants Megan Wylie, Gail Ferris, Allison Shanahan, Jess Wiltamuth, and Shellina Quillman wanted a design that included modified plant beds accessible by students with physical limitations and they approached the engineering class for help.  A functioning greenhouse was also part of the project design.
Students benefit from learning experiences that go beyond vocational training.  Life science, environmental science and math are interwoven in the day to day curriculum.  The greenhouse also provides therapeutic activities for students with autism and intellectual and emotional disabilities.
Student achievement is being measured through vocational skills growth and, when appropriate, more complex tasks and workplace behaviors.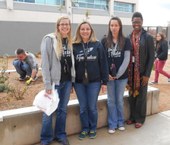 Natasha Martell Jackson, Media/Communications and Education Manager at Intel, and member of the APS Education Foundation Board of Directors, visited the program recently with APSEF staff.   Students were eager to talk about their greenhouse project and proudly showed the visitors the many plants and crops they were growing.  Through The Edible Schoolyard project students learn how to build and maintain sustainable crops.  They also gain social responsibility by cooperating on a team and engaging in work-related tasks.  On the day of the visit, some students were directly caring for the plants while others were learning craft and work skills by wrapping dried herbs and mixing herbs and sea salt together for later sale.   They enthusiastically answered questions about all aspects of the greenhouse and plant bed project, including the painting and decorating of the specially designed raised beds.
The APS Education Foundation and the Horizon Campaign sponsor businesses are pleased to fund the many innovative projects being implemented in schools.  The spring cycle infused over $70,000 into classrooms all over the district.   The fall 2013 cycle also funded over $70,000 in projects. Winning applicants will be recognized at the APS Board meeting on December 4.