News from the Education Foundation
Fidelity Investments Volunteers Transform Ernie Pyle Middle School
Fidelity Cares volunteers work hard each spring and summer to beautify, clean and otherwise transform aspects of Ernie Pyle MS (EPMS), which has been the company's APS Education Foundation/Join-a-School partner for several years. Other schools and programs, like Van Buren MS and the APS Title I Homeless Project, have benefited from Fidelity Investment's support as well.
Yvonna Yeadon-Lando, shown here with Mayor Richard Berry, was recognized in 2012 for her volunteer efforts and was a finalist for Volunteer of the Year.
The most recent transformation cycle, held on Saturday, April 6, benefited the EPMS art room and program.  The art teacher is Martin Rodriguez.  Over 50 Fidelity volunteers ( representing 232 hours) painted the art room walls; cleaned and organized the art supply storage closets;  repainted the students' desks, two large teachers' work stations, and shelves; painted an Art Room sign at the classroom entrance; and provided for the purchase of 32 new students' chairs, aprons,  and art supply materials.
The Transformation Day program is coordinated annually through the efforts of Veronica Reyes, Community Relations Coordinator, Fidelity Investments, and Sonja Martens, Volunteer Programs Manager for the Student, Family and Community Support Department.  "It was really neat to see volunteers come together and clean up a room that makes the learning environment inviting and engaging," says Ms. Martens.  The Hands On Network is an integral part of the partnership during the larger summer Transformation Day event.
Special mention goes to the Fidelity Investment's team managed by Crystal Jones.  Her team came in the Friday before the transformation day to prep the art room as a Team Building Activity.  The team sanded desks, prepared surfaces for painting, and primed walls where needed.  They moved furniture and cleared the room for the volunteers.   The Team's effort enabled the Saturday event to go smoothly.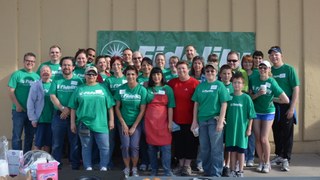 Past projects have included the complete refurbishment of locker rooms; the creation of a Student Resource Center; the painting and beautifying of the cafeteria; improvement of the teachers' lounge; the refurbishment of landscaping, basketball hoops and court, and other outdoor areas; a STEM focus and beautification in the math and science hallway; and the creation of a Hall of Fame at the school with inspirational quotes and student art work.
Fidelity Investments provides a variety of types of support to APS.  Funding has been provided for three years for the Fidelity Investments Broaden Your Horizons Field Trip program for Title I Middle Schools.  The company is involved in the annual APS School Supply Drive, helping to collect, sort and distribute school supplies and often paying for school buses to pick up donated supplies. Fidelity Investments also supports the APS Title I Homeless Project and offers a Junior Achievement Done In A Day program for EPMS 8th graders.
Volunteers were honored at the Fidelity Best in Class 2012 volunteer appreciation and recognition event on Tuesday, April 23. A special recognition was given to Fidelity Investments volunteer Yvonna Yeadon-Lando who has spent close to 80 hours at Van Buren MS participating in the Citizen Schools afterschool program.   She said, ""I started my journey as a volunteer with small projects through Fidelity. It was not until I became a Citizen School teacher that I learned the joys of being a volunteer and what it really meant to give back. During my time as a Citizen School teacher, I felt I had a lot to offer and to teach. What I did not expect, was what the students taught me. The students helped me become a better person, to give of myself without regards to what was in it for me and how the small things that you do for others do matter. I am so grateful for my journey with Citizen Schools and all the other projects that I have been a part of through Fidelity.  Even though Citizen School is concluding, this is just the beginning of my venture into other volunteer projects.   If I could pass on one thing from my experience, it would be to encourage others to volunteer because life it too short not to give back.  You really never know what they will help you learn about yourself."
APS Education Foundation Partnerships Manager Lauren Joule, who has worked with the company since they arrived at Mesa del Sol, says Fidelity Investments is the quintessential community partner.