News from the Education Foundation
Fall 2012 Horizon Grant Takes Lew Wallace ES Students Around the World
Students in the LWES gifted program read the Jules Verne classic and prepared a global experience to be shared by the entire school. The multi-disciplinary project-based experience included reading and discussing the novel and researching places Phineas Fogg and Passepartout visited on their 1872 journey.
Teacher Mona Grigsby-Suarez stands with the ambassadors for China, the students' selected country and one of many visited at the Lew Wallace ES World Fair. The event culminated the Around the World in + or – 100 and 80 Days Horizon Grant.
Teacher Mona Grigsby-Suarez wrote the grant entitled Around the World in (more or less one hundred and ) 80 days to increase and enhance students' knowledge and appreciation for the past as they journey through time and space.  The students directly involved in the project served as ambassadors for the day long event after selecting a country and producing a variety of products to be shared with the entire school at the World Fair.
A pre-test of basic world history and geography assessed students' knowledge prior to starting the unit.  A post test will be administered at the end to measure academic success.  A survey was given to all school students to evaluate their experience at the World Fair.  The project was designed with the new Common Core standards for language arts and math in mind.  Students learned the importance of collaborating as a team and learning through multiple – auditory, visual, tactile and kinesthetic – educational opportunities.  The project was especially innovative in that it utilized a piece of classic literature to serve as a basis for unlimited expansion in to other subjects.  One of the requirements of winning an Horizon Award is the ability of the project to be replicated and exported to other schools and classrooms. It is easy to see students experiencing a similar activity through other classic novels like Treasure Island.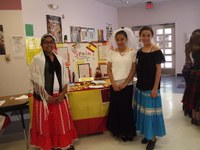 Students studied about their chosen country and created products for display at the fair.  International crafts, replicas of inventions, souvenirs, CDs of international music, passports, and traditional clothing were all on display on May 10 at Lew Wallace ES.  To create the mood of a World Fair, flags of selected countries were purchased as well as a wall-sized map of the world.  The entire school was able to enjoy this enriching and meaningful activity funded through the 4th cycle of the Horizon Campaign Awards.  In addition, a Peace Table was present at the EXPO with all visitors having the opportunity to sign the peace pledge.  For those parents and community members visiting the World Fair, it was a vibrant, colorful, exciting and meaningful experience highlighted by the student ambassadors' newfound knowledge of their selected country.