News from the Education Foundation
Blue Cross and Blue Shield of New Mexico Invests in Innovative APS STEM Programs
From left: Becky Kenny of BCBSNM, Shannon Barnhill of the APS Education Foundation and Consuelo Bolagh-Cowder of BCBSNM
When thinking of Blue Cross and Blue Shield of New Mexico (BCBSNM), many of us think of their focus on health and wellness.  Some of you may even see their Blue Bear out in the community with the Care Van, encouraging New Mexicans across the state to learn more about living healthy.
Did you know that this past school year BCBSNM has also invested $13,700 in STEM (Science, Technology, Engineering and Mathematics) programs through the APS Education Foundation?  Through the Achieve Awards, the Foundation invests private dollars to fund innovative clubs and activities aimed at engaging students so they are more likely to attend school and find learning rewarding.  The Foundation's Board of Directors' Disbursement Committee chose the programs eligible for funding in the 2017-18 school year, and then BCBSNM invested in two chosen programs focused on STEM.
"We have been fortunate to have the support of Blue Cross and Blue Shield of New Mexico for many years.  This longstanding partnership has enhanced the opportunities for our students to succeed by exploring the world of STEM," said Shannon Barnhill, Executive Director of the APS Education Foundation.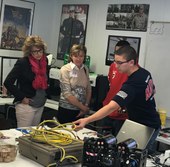 The two recipients of their funding were West Mesa High School's Navy JROTC program for "2017 Near Space Challenge" and the robotics program at Garfield Middle School for "A Community of Roboteers."  This spring, BCBSNM and the APS Education Foundation were able to visit both schools to see the dollars in action.  The students at West Mesa High School talked about their experiences launching High Altitude Balloon (HAB) Vehicles and what they had learned from competing.  They were also eager to share the technology they use in under water robotic competitions along with the components they were able to develop right in the classroom with guidance from their teacher Major Mark Hendricks and engineers that are eager to mentor and troubleshoot.  The program is invaluable as it provides hands on learning opportunities in a real world environment, preparing students for a rigorous course of study once they graduate and futures in STEM-focused fields.
Before reaching high school and the growing number of hands-on STEM programs becoming available in APS, middle and elementary school students must have developed a love of science to take advantage of these programs that have the potential to propel them into a successful future.  BCBSNM invested in Garfield Middle School so that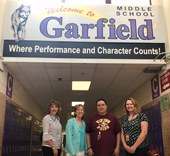 students in the robotics program headed by Chaushie Forster could acquire 24 Sphero robotics kits they could share with other schools interested in robotics.  Before parents invaded the halls of Garfield for STEM Night, Mr. Forster had students talk about the robots and gave BCBSNM representatives and APS Education Foundation staff a tour of the school and the projects his students work on.  Mr. Forster has created opportunities for his students to compete in robotics competitions that they would not have otherwise have had.  He works with other schools to ensure that staff and students have the guidance and the resources to develop their own robotics programs, and his passion was evident as was the excitement of his students as they talked about their past victories in competition. 
"Blue Cross and Blue Shield of New Mexico understands the importance of investing in STEM programming to help prepare the workforce of the future," said Dr. Eugene Sun, Vice President and Chief Medical Officer of BCBSNM.  "We are proud to provide funding for outstanding STEM programs, including those offered at West Mesa High School and Garfield Middle School."