News from the Education Foundation
Bank of Albuquerque Promotes Literacy Through Voluntarism and Library Donations
Bank of Albuquerque volunteers supported literacy events at four elementary schools during National Children's Book Week recently. Chelwood, Dolores Gonzales, Emerson and Lew Wallace libraries were all recipients of a $500 donation for literacy from the bank.
A Bank of Albuquerque volunteer reads to Dolores Gonzales ES kindergartners during National Children's Book Week.
The events were very diverse for the bank employees and ranged from reading to students to serving food.   At Dolores Gonzales ES, bank personnel from the downtown corporate office and another location read to kindergarten, 1st and 2nd graders in small groups; they also talked to students about careers and what it means to work in a bank.   A few days later bank volunteers assisted Lew Wallace ES with Family Literacy Night, donning hairnets to help with serving food.   Students received summer literacy packets which included lots of items to support the love of reading during the summer.  The Bank of Albuquerque donation will help the school to purchase books for the Battle of the Books.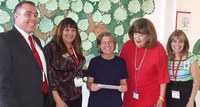 The third event was the Leaders as Readers celebration at Chelwood ES.  Many business partners,  community members, and APS staff gave time to read to students and model love of literacy.  Several Bank of Albuquerque volunteers read to classes throughout the day.    Finally, employees participated in a very creative literacy activity for 3rd graders at Emerson ES.  The 5th graders selected books to create "theme" tables for the library, under the direction of librarian Sonya McCully.  Volunteers were assigned  a table and read a themed book to 4-5 children; groups of students were able to rotate through at least one other table at the Readers' Café.
Francie Monteith, Community Relations Manager, approached APS for some ideas on celebrating National Children's Book Week in a little different way this year.  The bank efforts were to focus on promoting literacy rather than collecting books.  The result was a weeklong celebration of literacy at four interested and deserving elementary schools.   Ms. Monteith, who has coordinated partnership activities between the bank and APS for many years, said, "Bank of Albuquerque is delighted to assist with these meaningful literacy activities and support summer reading programs at the elementary level.  Our employees were eager to volunteer and have found each event gave them a new and positive perspective about the importance of reading at the elementary level."  APS thanks the Bank of Albuquerque and Francie Monteith; her enthusiasm and continued support are much appreciated.