News from the Education Foundation
Autism-Specific Classrooms Receive Big Donation
Holman's USA and its foundation donated iPads and equipment.
McCollum Principal Carrie McGill, teacher Samantha Hannah and Holman's USA President/CEO Anthony Trujillo with Samantha's class.
Three special autism-specific classrooms at McCollum Elementary School and Highland High School received a very special gift today.

Holman's USA and the Holman's Technology for Autism Foundation donated $19,000 worth of iPads and equipment to teachers in autism-specific classrooms at McCollum and Highland, where teachers Samantha Hannah, Angelita McCarter and Elizabeth Teymoori serve students with autism. Holman's has been a longtime supporter of APS autism-specific classrooms, and most recently sponsored a Symphony for Autism concert in collaboration with the APS Special Education, the APS Education Foundation and the New Mexico Philharmonic.

Thanks to Holman's President/CEO Anthony Trujillo, who also is a member of the APS Education Foundation Board of Directors.
Highland Principal Marco Harris, Mr. Trujillo and teacher Elizabeth Teymoori take a selfie.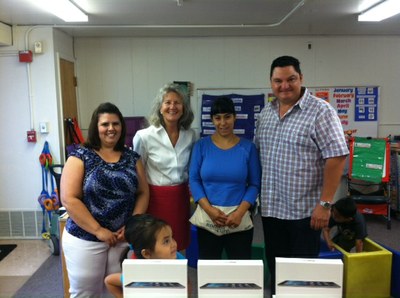 McCollum Assistant Principal Ramoncita Garcia, Principal Carrie McGill, teacher Angel McCarter and Mr. Trujillo with Angel's class.