News from the Education Foundation
16,000+ Students to Benefit from Spring Horizon Awards
Since Horizon's implementation three years ago by the APS Education Foundation, more than $550,000 has been allocated into classrooms.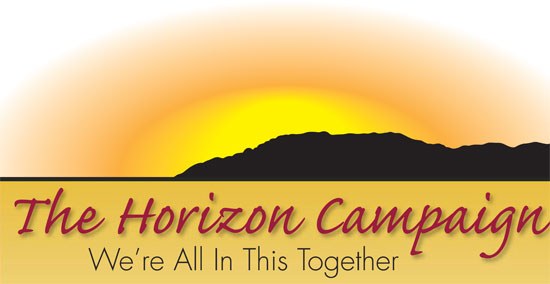 A record $85,000 was granted in the APS Education Foundation's Spring 2014 Horizon Awards, with the money funding high-impact projects in schools throughout the city.
But that's not the best part. Actually, it was this all-time high number: More than 16,000 APS students will be touched by the funded projects.
"Judging from the feedback we've gotten from our judges, this cycle was the best we've ever had in terms of quality of submissions," said Foundation Executive Director Phill Casaus.
A committee of 15 members of the Foundation's Board of Directors and several community volunteers judged nearly 100 grant submissions in four key subject areas – Fine Arts, STEM (science, technology, engineering, math), Literacy and Middle/High School Activities.
"What was interesting in this cycle was the number of first-time winners," Casaus said. "It's a blind-grant process, meaning the judges don't know the names of the teachers or the schools they represent when the grants are read. But I'm pleased that Horizon reaches all corners of the community, and at all levels."
Since Horizon's implementation three years ago, more than $550,000 has been allocated into classrooms. Horizon recipients are required to create a report when their projects are complete. Bids are judged on a variety of criteria, including the number of students reached and innovation. School personnel may create a project for a single classroom or a team approach.
Horizon funds proposal of between $1,500 and $5,000 in individual- and team-classroom concepts. Community-minded businesses and individuals have donated to the campaign since 2010, and the Foundation plans to roll out an updated version of Horizon in the coming month as the 2014-15 school year approaches.
The winning lead applicants include:
Cynthia Magoffe, Dawn Meyer, Amy Edwards, Melissa Slemp, Mark Weisbrich and Esther Keeton (Sandia HS) for a cross-curricular unit on race and classism in the U.S.
Alice Salzwedel (Mitchell ES) for a "Where the Wild Things Are" family literacy night
Mark Cristal Wilson, Rachel Livingston, Patrick Ware, Matthew Sandoval and Jenna Yager (Mark Twain ES) for a project titled "Literacy for Me"
Patty Ironside-Davis, Jonathan McMinn and Lana Greenblatt (Susie Rayos Marmon ES) for a project titled "Kinder Geeks"
Catherine Allen, David Strong and Stephanie Turner (Madison MS) for a community-building through service-learning project
Kristine Olles (Van Buren MS) for a book campaign at the school
Amanda Allred (Monroe MS) for a project titled "Crosstown Advocacy"
Alicia Ruch-Flynn, Bill Caskey and John Potter (Freedom HS) for an individualized math curriculum project
Gary Bodman (Taft MS) for a robotics project
Philip Olona (Cleveland MS) for an environmental gardening project
Rachel Zulick and Jennifer Beck (Rio Grande HS) for a STEM project involving bacteria
Hernesto Tellez, George McAfee and Stacie Greth (Sandia HS) for a STEM project involving ion chromatography.
Amy Traylor (Del Norte HS) for a STEM project involving computer programming
Kathy Walton, Deanne Smith, Amy Suman, Jennifer Sacacco, Ryan Clark, Erin Clark, Katrina Perez, Lara Carter, Trini Gallegos and Jessyca Cummings (Griegos ES) for a green community gardening project
Katrina Sisneros, Jessica Esquibel and Sarah Smith, (LBJ MS) for a formative assessment project
Ulrike Kerstges and Sandy Deuell (Tierra Antigua ES) for a project that will help students use technology to improve math skills while also improving their knowledge of fitness
Daniel Delao and Ali Nava (Lew Wallace ES) for a project titled "Dude, That Camping Was In Tents!"
John Daly (Wilson MS)  for a STEM project titled "Plans, Plants and Pollinators"
Sara Cook (Bandelier ES) for a project that uses circuit boards to foster knowledge about electricity
Carol Leyendecker, Maria Anderson, Monica Salas, Nancy Schranz and Karen Zarrella (Georgia O'Keeffe ES) for a project titled "Algebra is an Adventure"
Amy Richardson and Laura Gonzales (Dolores Gonzales ES) for a project titled "Enriching Our Community and Beautifying Our Campus"
Christina Halstead, Diane Roberts, Edward Bortot, Joe Freeman, Dorie Fonda, Vivian Valencia, Phil Perez and Jennifer Valdez-Soto (Kennedy MS) for a world-music project
Heather Sanchez (Rio Grande HS) for a project involving the school's mariachi band
Mary Rafferty (New Futures HS) for a digital storytelling project encouraging parents and grandparents to check out books
Cathy Scott (Helen Cordero Primary) for a family literacy project
Rhonda McDaniels, Russ Reikeman, Kathy Swanson, Carmen Mares (APS Gifted Department) for a project supporting gifted learning
Antonio Cruzada (Reginald Chavez ES) for a project titled "The Learning Cart"
Jane Davalos, Angela Stoltenberg and Robert Jojola (Hawthorne ES) for a projects titled "Roots and Wings/Raices y Alas"
Julie Gallegos and Meghan Miller (Juvenile Detention Center) for a project that will help at-risk youth
Amanda Patterson (Osuna ES) for a project titled "Athletes Reaching Out"
Mary Hoover (Harrison MS) for a project titled "Forever Reading"
Cathy Williams, Veronica Forrester, Cheryl Clark, Amanda Montoya, Noemi Llanes, Maria Carrillo, and Eva Harral (Armijo Elementary) for a project that aims to increase independent reading levels.