News from 2012-2013
Posted:
December 11, 2012
State Championship Football Game Played on New Turf
Surfaces at Milne and Wilson stadiums supported 134 games, including Sandia-Las Cruces matchup.
When the clock expired on the Class 5A state championship football game between Sandia and Las Cruces high schools, it marked the end of the first season for a new playing surface that was installed at Wilson Stadium last summer.
Sandia's valiant rally came up short on an artificial surface manufactured by FieldTurf, the same firm that built fields installed at the University of New Mexico's football and baseball stadiums and is used in college and professional stadiums around the country. The surfaces at Milne and Wilson cover 72,000 square feet and cost $312,000 each. Available capital funding paid for the project.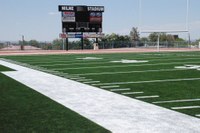 New surface at Milne Stadium
"Capital funds allowed us to upgrade to the best surface in the state and region," said Kenny Barreras, director of APS Athletics.
A heavy schedule took its toll on the old fields over 11 ½ years. By last season, 13 APS high schools and a private school shared the two facilities for varsity, junior varsity and freshman team games. Some relief is in sight with the new APS Community Stadium expected to be completed for the 2013 season.
Between the two stadiums, 134 football games were played this season. The facilities also hosted events such as the Pageant of the Bands and youth league playoffs.
Projects like current stadium upgrades and the new facility on the West Side are made possible by taxpayer-approved bonds and mil levies. The next bond and mil levy question will be sent to voters in an APS capital improvements election scheduled for Feb. 5, 2013.
"There's not one student or coach I talked to who didn't appreciate the new fields and recognize that they're the latest and greatest technology," Barreras said. "We've shown as a district that we can upgrade our facilities, and it's the continued support of the community that makes upgrades possible."