News from 2012-2013
APS Breaks Ground for South Valley Academy Construction
Charter high school to receive classrooms, science labs, greenhouse and more.
Principal Katarina Sandoval and South Valley Academy alumni celebrated the groundbreaking for a permanent school building.
Albuquerque Public Schools has begun construction on permanent facilities for the South Valley Academy Charter School. The district held a groundbreaking ceremony at the school on Tuesday, Oct. 30.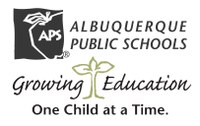 "This is a significant overhaul to improve the learning environment at South Valley Academy," APS Chief Operations Officer Brad Winter said. "APS continues to work with district-authorized charter schools to get them into the kind of facilities the law requires and will help their students succeed." 
The $7.2 million project includes a 10-classroom building, three science labs, greenhouse, digital library and community space, computer and multimedia education room, advisory and multipurpose areas and instructional courtyard spaces. The project is expected to be completed by fall 2013. 
"It's overwhelming to start a school from scratch and then build it, so we're grateful to APS for their help with this project," South Valley Academy Principal Katarina Sandoval said. "It means everything to have this done. We're excited." 
South Valley Academy opened in 1999 and has an enrollment of about 250 students. Studio Southwest Architects designed the project and Shumate Constructors serves as the general contractor. 
APS has dedicated more than $34 million exclusively toward the design and construction of district-authorized charter schools over the next four years. The district currently houses six charter schools in APS-owned facilities and has spent more than $14 million for their acquisition and refurbishment. 
APS will be asking voters to go to the polls to approve bond and mil levy funding for capital improvements in an election scheduled for Feb. 5, 2013.