News from 2012-2013
Added Classroom Building Eases Truman's Continued Growth
Voter-approved funding aided largest middle school in New Mexico.
It's no secret that the Southwest Mesa is the fastest-growing area in Albuquerque. Just ask all the people who have moved there. 
More families mean more students enrolling at APS schools like Truman Middle School. At about 1,430 students, Truman is the largest middle school in the state. Fortunately, it also opened a new 16-classroom building about a year ago. 
"The Truman community has embraced the new building with open arms and is very proud of the addition that graces the already beautiful campus," Principal Judy Martin-Tafoya said.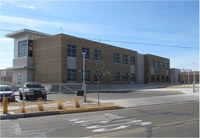 Projects like new classroom buildings are made possible by taxpayer-approved bonds and mil levies. Voters are being asked to consider a $368 million bond and mil levy package in the Feb. 5 APS capital improvements election. 
The $7.3 million facility gave the school one of its most significant upgrades since it opened in 1975. A new student drop-off area came with it. 
The school still uses many portables, but eighth graders are now housed together in a permanent building. Martin-Tafoya said part of the reason to move them was to get them used to the idea of using a state-of-the-art facility and taking care of it before they leave for high school. Atrisco Heritage Academy, Rio Grande and West Mesa high schools all have newer structures for freshmen. 
"The students have learned how to care for a new facility and how to behave in a new setting that requires using stairways, wide hallways and windows where they can see the mountains," Martin-Tafoya said. "These sound like simple things to us, but for our students this is the first time they have been housed in a building that is new, clean and contains up-to-date technology." 
If approved, capital dollars are scheduled to fund major rebuilding projects at Rio Grande and West Mesa. Plans also are in the works for a new K-8 school next to Atrisco Heritage that would help reduce the population at Truman.