News from 2015-2016
APS Names New Chief Academic Officer, MS Associate Superintendent
Katarina Sandoval serves on the superintendent's cabinet while Dr. Gabriella Blakey joins the district's leadership team.
Albuquerque Public Schools Superintendent Dr. Luis Valentino has announced the appointment of Katarina Sandoval as Chief Academic Officer and Dr. Gabriella Blakey as Associate Superintendent for Middle Schools.
Both appointees are native New Mexicans who graduated from Albuquerque Public Schools (Sandoval from West Mesa High School and Blakey from Highland High School).
Sandoval has served as both the Associate Superintendent for Middle Schools and the Executive Director of Innovation for Albuquerque Public Schools. Before joining the APS leadership team in 2014, Sandoval was the principal at South Valley Academy, a nationally recognized APS-authorized charter school that she co-founded in 1999.
Sandoval earned her bachelor's degree from Stanford University and her master's degree in teaching and curriculum from Harvard University. She began her teaching career in Boston Public Schools and has been an educator since 1995. She won the prestigious Milken Educator Award, considered the Academy Award for educators, in 2003.
As Chief Academic Officer, Sandoval provides strategic leadership in all dimensions of curriculum and instruction and focuses on providing high-quality professional learning and leadership development opportunities for educators and administrators.
"Ms. Sandoval's passion, commitment to serving students, and experience both within APS and in the broader community, are key assets that she brings to this leadership position," Dr. Valentino said.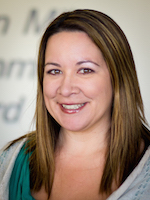 Blakey is returning to APS after serving as a member of the Santa Fe Public Schools cabinet in her role as Assistant Superintendent of Curriculum and Professional Development.
Before taking the job in Santa Fe, Blakey served as principal at Albuquerque Public Schools' Eisenhower Middle School and as an assistant principal at Eldorado High School and Roosevelt Middle School. In addition, she was the activities director at Highland High School and an English as a Second Language and social studies teacher in Albuquerque, Las Cruces and Washington.
Blakey also was the executive director and principal at the Health Leadership charter high school in Albuquerque and served as a co-instructor supervising aspiring principals through a joint program of UNM and APS. She has a doctorate and master's degree in education from the University of New Mexico and a bachelor's degree in secondary education from New Mexico State University.
Blakey oversees the district's 26 middle schools serving nearly 20,000 students as well as the new K-8 school, George I. Sánchez, that opens this fall on Albuquerque's southwest mesa.
She joins associate superintendents Todd Resch, who is responsible for the district's high schools; and Raquel Reedy and Diane Kerschen, who oversee APS elementary schools.
"Please join me in welcoming Ms. Sandoval and Dr. Blakey as they take on new roles and responsibilities in APS," Dr. Valentino said.