News from 2014-2015
Older Students Help Younger Students Stay Healthy
High school seniors are assisting school nurses while gaining valuable experience.
From health screenings to flu vaccines, CEC nursing students are gaining rewarding clinical experience working with elementary school students across the district while easing the workload of school nurses.
"It's just a positive experience all around," Laura Case, Director of Nursing Services, said. "The kids get individualized attention, we get additional help and the nursing students get curriculum and training."
Because health screenings are required for the nearly 22,000 students in kindergarten, first and third grades, many school nurses struggle to administer these screenings before the December deadline. In the new partnership with the Career Enrichment Center, nine nurses at elementary schools with large populations or who work with multiple schools get invaluable help from the practical nursing students.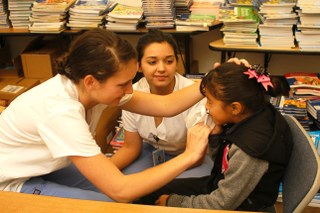 "Our students help expedite these screenings, allowing the school nurses to concentrate on their duties," Amanda Valdez, CEC Practical Nursing Clinical Coordinator, said. "We help make it so the health screenings isn't all they're doing."
The nursing students have appreciated the clinical experience in the schools so much many have volunteered their own time to give additional help. Valdez says the nurses wish her students could be there every day, and the students don't want to leave either.
"It's really fun just being able to work with the kids, especially administering the flu mist because they are really scared, and we're able to calm them down and be a friendly face," senior Domonique Lucero said. "This is exactly what I want to do. "
The CEC Practical Nursing Program is an accredited Licensed Practical Nursing Program that prepares high school students for entry level nursing practice. CEC Practical Nursing Program is the only LPN program in New Mexico and the only such program for high school students in the country.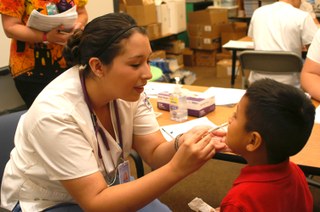 "It's essentially very hard and very competitive, but it is so fulfilling," said senior Kaitlin Young. "And, it's just amazing the opportunities we are exposed to being so young."
Students are admitted to the five-semester program their junior year, dedicating nearly 40 hours of coursework, clinical hours and study time a week in addition to their traditional high school workload. They have varying schedules of clinical hours rotating through acute care, geriatrics, mental health, rehabilitation and community health, among others.
"I love going out and just being able to help within the community and getting the experience," Lucero said.
All of the CEC Practical Nursing graduates continue on to pursue higher education toward an RN Certification, either through an associates degree or a Bachelor's of Science in nursing. CEC graduates are given preference in the application process in the workforce and in gaining admittance to nursing schools because of their clinical experience, their strong foundation and the prestigious reputation of the 33-year-old CEC Practical Nursing Program.