News from 2014-2015
Posted:
September 9, 2014
Happy Birthday Community Stadium!
The district's newest athletic facility celebrates its first anniversary.
Community Stadium, the district's newest athletic stadium, just celebrated its first anniversary by hosting several high school football games including the annual East vs West Kick Off Clash.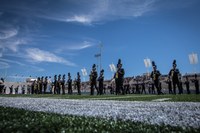 Check out more pictures of Community Stadium
Every APS varsity high school football team has played at Community Stadium, which opened its gates last fall. The 7,500-seat, $28 million facility also has hosted schools from across the city and state including junior varsity, freshmen and YAFL football teams and marching bands. 
Since opening last August, the state-of-the-art stadium has played host to some 75,000 fans and participants at about 90 events.
Watch the Channel 13 story  about Community's first birthday.
And this spring, the adjoining 2,600-seat track and field facility will begin hosting track meets. 
Community is one of three athletics stadiums in Albuquerque Public Schools. Its siblings – Milne in downtown Albuquerque and Wilson in the foothills – are much older: Milne was built in 1939 and Wilson in 1963. It took 45 years before APS opened a third stadium in the fall of 2013.
Future plans for the APS Community Stadium site include additional athletic fields and land has been acquired across the street for school construction.