News from 2014-2015
Posted:
September 19, 2014
Eubank Students Make Their Mark
The entire school planted pinwheels to celebrate International Dot Day and Day of Peace.
Eubank Elementary School students combined two international days into one school-wide celebration in which they "made their mark" with pinwheels planted in front of the school.
The pinwheels represent each student's individual character and also their connection to others and how they can make a positive mark on their school, community and the world. The project is the brainchild of librarian Terri Gaussoin and speech language pathologist Kat McKelvey who tied International Dot Day (Sept. 15ish) and International Day of Peace (Sept. 21) to the school's theme for the year: "Believe There is Good in the World/ Be the Good."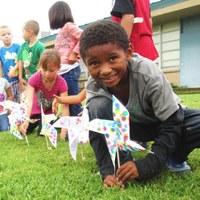 "We want students to recognize that they are a good part of the world, they have a lot to offer, and they can make their mark," Gaussoin said.
Students decorated pinwheels in the style of pointillism, where dots are used to form an image, and inscribed character traits to make it their own. Students began by exploring pointillism and the art of Georges Seurat during library class as part of their lessons on traits and perceptions. Gaussion said pointillism highlighted how from a distance you see a beautiful picture, and when you look closer, you realize it is made up of millions of dots. This represented how the students can be part of the greater good in the world.
Students then identified their positive character traits, and McKelvey assisted them in discovering synonyms in the Thesaurus and building their vocabulary.
"The project led to great conversations about character," Gaussion said.
Some students worried about weather damaging their pinwheels or someone stealing them. To that their instructors replied, "What if it's wonderful anyway?"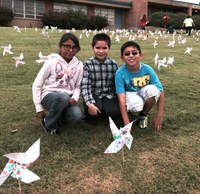 The school came together and planted their pinwheels on a rainy Wednesday, which McKelvey turned it into a teachable moment. "It will not always be sunny, but their character, like their pinwheels, will weather the storm," she said.
One optimistic girl took the rain in stride saying, "Look! Now they'll be tie dye."
International Dot Day, a celebration of creativity, courage and collaboration, is based on Peter H. Reynolds's book "The Dot," in which a caring teacher dares a doubting student to trust in her own abilities by being brave enough to "make her mark."  The Pinwheels for Peace is a visual statement for tolerance, cooperation, and  "whirled peace," in honor or International Day of Peace.