News from 2014-2015
Elementary Summer School Students Focus on 'Healthy Body'
Inez Elementary program draws students from around district
Teacher Lisa Livingston shows parts of the human digestive system in the APS Summer Learning Adventure program at Inez Elementary.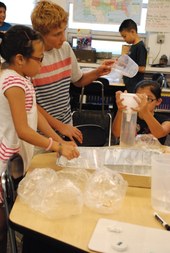 Students from around Albuquerque enrolled in the summer school program at Inez Elementary School are getting hands-on experiences in the healthy body workshop as they study science and math and develop their literacy skills.
Inez Principal Cindy Bazner said that the Albuquerque Public Schools Summer Learning Adventure at the school focuses on the body and is modeled after the 'Grossology' program at the NM Natural History Museum. "What we adults might find gross when we get our hands dirty, the students find fun," she said.
"Last week we studied the digestive and respiratory systems," Bazner said. "We had one 4th grade class who wrote poem titled 'An Ode to Digestion,' while another class of 5th graders used water displacement to study lung capacity."
Jami Jacobson, executive director of curriculum and instruction for APS, said the summer school programs around the district have been redesigned to provide students with more hands-on learning experiences. "The hands-on lessons are more engaging and fun for the students, while at the same time cover all the material they need to catch up on so they can be more successful in whatever grade they are going into," Jacobson said.
The Healthy Body Workshop is offered at Atrisco Elementary as well, while Arroyo del Oso and Petroglyph elementary schools offer the Into the Wild program, focusing on the outdoors and the world around us.