News from 2014-2015
APS Transportation Search Provides Bus Service Info.
Find out if a student is eligible to ride the bus, bus numbers, bus stop locations and more.
E-Link School Transportation Information Search
For more information contact the APS Student Transportation Office at 880-3989.
E-Link provides parents with the ability to determine their students transportation eligibility.  If students are eligible for transportation, e-link provides them an assigned bus number, bus stop location, and arrival times. Information is displayed in text format and plotted on a Bing map for convenience.
Example: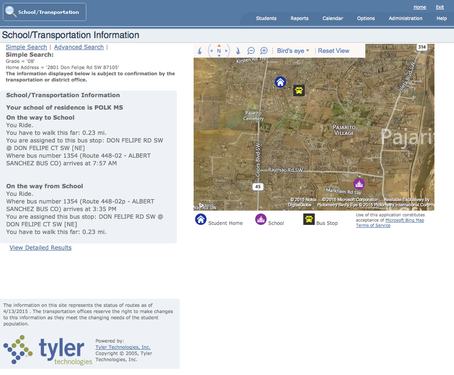 Who Can Ride the Bus?
APS provides bus transportation to:
High school students whose home address is 2 or more miles from school
Middle school students whose home address is 1.5 miles or more from school
Elementary school students whose home address is 1 mile or more from school