News from 2013-2014
Posted:
December 16, 2013
We Knew It: APS Is Generous
We've featured dozens of schools this holiday season who have given back to their community. They don't do it for recognition, but we wanted to say thanks for being so generous.

Dec. 17: Volcano Vista, Onate, Atrisco, Corrales, Hoover, Comanche
Dec. 10: New Futures, Pajarito, Del Norte, MacArthur, Albuquerque High, Alvarado, North Star, Rio Grande, Instructional Accountability Staff, Desert Ridge
Dec. 3: Wilson, Grant. Chamiza, Hodgin
Nov. 26: Painted Sky, Roosevelt, Chelwood and Manzano, Truman, 7-Bar
Nov. 19: Atrisco Heritage Academy, Eldorado, Manzano and Washington
Nov. 12: Georgia O'Keeffe, Volcano Vista, James Monroe, Rio Grande, Garfield, Sandia
12-17-13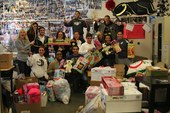 Volcano Vista High School
VVHS students sponsored 51 children and three families for PB & J; it was a school- wide effort organized by Student Senate. It took two trucks to take all the toys and clothes to their facility. the school's Wing Squad, a community service organization, raised $1,300 to donate to this project. This is the fifth year that VVHS has participated in this activity and students and the community get more generous each year.
Onate Elementary School
Gay Crouch's fifth grade class at Onate Elementary has participated for the past eight years in donating to Heifer International as part of a larger World Hunger unit.  Since 2003, they have raised over $2,400 for third world villages to receive animals to raise and pass on to other village members. They just kicked off this year's unit, which begins with research on a third world (developing) country, continues with a hunger simulation, and culminates with fundraising to send animals to those in need in other parts of the world through Heifer.
Animals have included llamas, water buffalos, goats, sheep, chickens, ducks, geese, honeybees, piglets, and rabbits. The unit follows the model of: Knowledge -- Experience -- Action. This service learning unit has really made a difference in the awareness of students (and their families) of our global connections with others, as well as the importance of helping those in need.
Atrisco Elementary
The school nurse at Atrisco, Karen White, organized a food drive in partnership with Albertsons and Central and Coors, which contributed food items. Holiday food boxes were distributed to families who aren't receiving any other services yet are in desperate need of help.
Corrales Elementary
A group of six fifth graders at Corrales met on a Sunday and organized a fund drive for the Philippines. They came up with a plan on their own to raise funds for the Red Cross. They met with each classroom at the school and discussed the tsunami that devastated that part of the world, showing other students where the Philippines is located on a map and talking about how the storm impacted their community. They then created boxes for each classroom and held the drive for two weeks. On Dec. 5, they tallied the final numbers and raised over $800 for the Red Cross.
Hoover Middle School
During the week of Dec. 5-11, Hoover eighth graders held a campaign to "spread the word to end the word" and raise a $323 donation for Special Olympics New Mexico.
Students designed and hung posters to discourage the use of disparaging language, ran a "Hot Shot" basketball contest, organized a jog-a-thon, and sold candy-grams and donuts in efforts to raise awareness about people-first language and the importance of Special Olympics in developing everyone's potential.
Many parents and two local businesses (Donut Mart and K&J'z Moving) generously donated both donuts and funds to the students' efforts, making this campaign a community effort to make a difference in opportunities for individuals with intellectual disabilities through competition in Olympic style sports.
Comanche Elementary School
For the past couple of years, Comanche has kept a pantry at the school stocked with nonperishable items that could be sent home with students over the weekend when they wouldn't have free breakfast and lunch provided for them. The pantry got bare after the Thanksgiving holiday, so first-grade teacher Marvin Callahan asked for help via his Facebook page. And the response was overwhelming. The pantry is now overflowing and will have plenty of items to send home with students during the winter break. And since many of the students are little, volunteers at the school have offered to bring the donations straight to the family homes.
12-10-13
New Futures High School
New Futures will host a toy drive for the children of its students. Students who volunteer with the Dime Time Store will clean and repair the toys. Each student at the school will then be able to select a toy, blanket and book for the winter holidays. Toys that are left over will be donated to the New Mexico Safe House.
In addition, students recently took a field trip out to the All Faiths where they volunteered for a day, helping put together food boxes for families. They also raked leaves to help beautify the grounds.
And they sponsored a food drive, putting together 10 food boxes for families that included turkey, potatoes, stuffing, pie and then, five extra vegetarian boxes.
Pajarito Elementary School
Fourth graders at Pajarito Elementary created cookbooks, sold them to the community and donated $600 of the proceeds to Joy Junction to help the less fortunate.
They used the rest of the money raised to buy ingredients for their recipes which they delivered to the Joy Junction kitchen staff. The students then took a field trip to the homeless shelter and served their prepared recipes to others. They also collected and donated hygiene products to Joy Junction.
One student participating in this community project said he was excited to give to those in need because it makes him feel good to help others who don't have enough to eat. Another student said this made her feel good because she knew she is making a difference for others in a positive way. The fourth grade teachers from Pajarito decided to make this an annual tradition.
Del Norte High School
The Del Norte High Round Table Student Senate has sponsored several fundraisers and drives this holiday season including a 60-second fundraiser during which more than $300 was raised for the American Red Cross in one minute during morning announcements.
The students also sponsored a Harvest for Cans, a canned food drive with a two-pronged approach:
A neighborhood in the DNHS community was selected and Round Table members blanketed the area with door hangers asking for canned food donations.
The following Saturday, Round Table members went back to collect the food.
In addition, a homeroom canned food drive competition was conducted and more than 1,000 cans were collected.
The Del Norte Senate also sponsored Operation Turkey: students raised money, shopped and put together complete Thanksgiving dinner boxes containing everything from the turkey to the pie and even the roasting pan and butter for the potatoes. The boxes were donated to DNHS students and families anonymously selected by the counseling department.
Another project had homerooms adopt one or more "angels" from the Salvation Army's Giving Tree and decide how best to fulfill that child's wish. Homerooms had the option to go above and beyond the "wish" indicated on the child's card, and they all did. Gifts will be delivered to the Salvation Army Giving Tree the week before winter break.
MacArthur Elementary
For the third year, MacArthur is partnering with the U.S. Marines on their Toys for Tots drive. They are holding an assembly on Thursday for staff and students to present new toys to the Marines to be distributed to needy families over the holidays.
The Toy drive is an activity headed by the school's Character Counts Goal Team. There's no competition; they simply appeal to students, parents and staff to demonstrate caring, one the pillars of Character Counts. They sent home flyers, advertised in the school newsletter, sent messages and made daily announcements to remind everyone about toy drive.
"We find that children empathize with other children and they are very willing to give toys to children who may not get any for Christmas," said Cheryl McElheney, first grade teacher and Character Counts coordinator.
Albuquerque High School
Albuquerque High will be hosting its annual Adopt-a-Child event on Thursday, Dec. 12. This year they are providing shoes, clothes and toys for 78 less fortunate elementary school children from East San Jose, Eugene Field, Lew Wallace, Longfellow, and Lowell elementary schools.
Alvarado Elementary School
Every holiday season, Alvarado creates baskets for families in need at the school.  The entire school helps by donating canned goods and other food, and the PTA supplements by purchasing such items as ham, apples, rice and beans. They spend a day or so putting the  baskets together and then deliver them to the families the week before winter break. This year, one of the fourth-grade classes is going to help assemble the baskets.
North Star Elementary School
North Star hosted a clothing drive for Mission Ave. Elementary. The school also is collecting donations for its annual PB&J Preschool holiday drive. PB&J provides services for at-risk children and their families. Each grade at North Star donates a specific household item along with a new, unwrapped toy.
Rio Grande High School
The snowy weekend before Thanksgiving, the Rio Grande National Honor Society spent two hours at Roadrunner Food Bank helping sort canned goods for Thanksgiving baskets. Despite the snow and cold weather, 13 student members showed up and worked hard for the cause.
Instructional Accountability Staff
The Instructional Accountability staff which incorporates SIS, RDA and Testing & Assessment on the fourth floor at City Centre collected coats, pants, shirts, boots, hats, scarves, gloves, slippers, comforters, diapers, blankets, toys and gift cards for Title I homeless families. This was part of a community service effort that about 50 staff members have been supporting. They also collected school supplies, toiletries and non-perishable food for the families in August.
Desert Ridge Middle School
Desert Ridge is sponsoring its third annual "Holiday in a Box" gift drive to provide holiday gifts and necessities to 21 of its own families. The event is organized by the Desert Ridge Student, Parent, and Staff Organization (SPSO) in conjunction with the school counselors. Each social studies teacher in the school adopts one or two school families selected by the school counselors as needing extra help for the holiday season.
The response from Desert Ridge students and their parents is overwhelming in the amount of clothing, groceries, toys, and gift cards that are donated. When the gift drive is over, the counseling and administrative offices overflow with the huge number of donations received. Recipient families are so grateful to be able to have something to give to their children for the holiday season. Many tears of joy and gratitude are shed when those families arrive to receive the abundance awaiting them.
"Our school community looks forward every year to this opportunity to show its compassion and commitment to one other," said Jennifer Coston, President of the DRMS SPSO.
12-03-13
Wilson Middle School
The Wilson Middle School Student Council in partnership with the APS Health & Wellness Team, YDI-Elev8 New Mexico and Whole Foods sponsored a Harvest Drive that served 54 families for Thanksgiving with fresh and canned food, turkeys or hams. More than $900 was donated from teachers and community partners. The Presbyterian Medical Services' school-based health program staff delivered six food boxes to families who lacked transportation.
Grant Middle School
YDI-Elev8 New Mexico, working with Grant Middle School students in the school health advisory council collected 176 food items for Thanksgiving that benefited 21 Grant families and 10 disabled veterans.
Chamiza Elementary
For 12 years, students in Sandra Warrick's kindergarten classes at Chamiza Elementary have sponsored baby food drives for the Storehouse, a local food bank that provides food and clothing for families in need. Their service and dedication is being recognized by GenerationOn and Hasbro Toys, which have added 100 toys and $100 to the 750 jar of food collected by the students this year. The food, toys and money will be presented to a Storehouse representative during a school assembly this week.
Hodgin Elementary
The students at Hodgin Elementary raised 842 canned food items during its first annual Jog-a-thon to help Stomp out Hunger. All the canned food items went to the surrounding community families and the Roadrunner Food Bank. In addition, they prepared 30 holiday food baskets that were given out to our community families.
11-26-13
Painted Sky Elementary
Painted Sky Elementary sponsored a Jeans for the Philippines fundraiser that raised more than $1,750 for Philippines relief efforts. Students who typically wear uniforms to school were allowed to wear jeans last week by donating at least $5 to help those devastated by the typhoon. Families were emailed articles about the typhoon and encouraged to read them together and talk about what happened.
"We also encouraged students to break into their own piggy banks or do extra chores to raise the money themselves," said Principal Erica Hidalgo.
Proceeds will go to Save the Children's Philippines' Relief Fund.
Roosevelt Middle School
Teacher Fran Proce has raised more than $35,000 over the past 12 years as a community project to feed 26 needy families each year at Thanksgiving. This year as she was preparing her lesson plans, a family tragedy occurred. Her 6-year-old niece, Charlotte Hall Watson died in a tragic accident. While naturally feeling devastated and overwhelmed, Ms. Proce thought about discontinuing her annual fundraising project.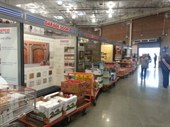 After much soul searching and discussion with her two 7th-grade humanities classes as well as her family, she decided to move forward with her project. Thus "In Remembrance of Charlotte" was born.
The goal of this project was to raise enough funds to feed 26 needy families with not only a complete Thanksgiving dinner but enough food for at least one week.
Two classes sent out 312 letters to local businesses in our community. They raised more than $5,700 which they used to purchase the food. Since Monday was a snow day, teachers at Roosevelt volunteered to come in and help put the care packages together, which were distributed to families Tuesday.
Students will buy books and distribute to them to a local charity with the remaining funds they raised.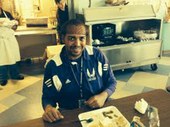 Chelwood Elementary and the Manzano High Track Team
With the help of the Manzano High School track team, Chelwood Elementary served over 800 meals to families and friends during its annual Thanksgiving lunch on Nov. 14. Under the direction of Coach Harvey Carreathers, the MHS track team helped clean tables, provided great role models and possible future track stars for the day. As an added bonus, the track team got to go to recess and join the elementary children for fun on the playground.
"We had many family members who were at our school that day and they got to see high school athletes support an elementary school, provide community service, and provide important role models," said Chelwood Principal Letha Oman.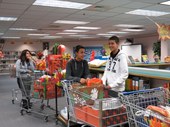 Truman Middle School
Each year, Truman teacher Irene Otero and the counseling office organize a Thanksgiving basket contest for Truman classes. Homerooms design and create beautiful Thanksgiving baskets for needy families within their community. Students and teachers bring in turkeys, canned goods and desserts. This year, 45 needy families will benefit from this kindness and generosity. The homerooms with the most creative baskets win a party.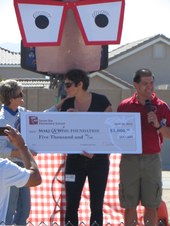 7-Bar Elementary
Students gave up part of their vacation to volunteer at the Roadrunner Food Bank. More than 50 students, parents and staff sorted, packaged and boxed food during the Thanksgiving holiday. In addition, the school is holding a school-wide can food drive for the Food Bank.
But the generosity at 7-Bar doesn't stop there. The school just finished collecting donation for the Second Chance Animal Rescue. And its biggest annual outreach project is for the Make-A-Wish Foundation. Over the past three years, 7-Bar has collected $12,600 and has been able to grant three wishes for children who have a  life-threatening illness.
How does the school raise money? Students bring in what they can and they also have incentives along the way if they meet certain goals. For example, 7-Bar has slimed its principal, Nancy Lacher; Ms. Lacher and PE teacher Bruce Atencio have exchanged jobs (and clothes) for the day; and they've duct taped her to the school building. They've also sold luminaries, held car washes and hold a community fun run with a proceeds going to the Make-A-Wish Foundation.
"Many of the opportunities that we expose our students to allow our students to understand that even though they are just kids, kids can make a difference," said Mr. Atencio. "Because of their involvement, I believe that they have a better understanding and a respect for differences among people, they have improved self-esteem and the shared feeling of satisfaction from being part of a positive meaningful experience."
11-19-13
Atrisco Heritage Academy
Fans of the Jaguars, whose school colors are blue, green and gold, wore orange to their football playoff game against Sandia last weekend in honor of a student who recently passed away after losing his battle with leukemia. Orange is the color of leukemia awareness. AHA students raised about $400 at the game for Emilio Conway's family to help them defray medical expenses. The Atrisco homecoming court also donated another $200 that they raised as part of a teacher auction earlier this year.
The Jaguars also are raising money and collecting blankets for the Red Cross in support of math teacher Azuecena Abella who family was devastated by the typhoon in the Philippines.
Eldorado High
The Contemporary Issues classes taught by Mary Dale Leonen at Eldorado High are partnering with the nonprofit organization A Million Thanks this holiday season to send letters of support and gratitude to military people along with their families.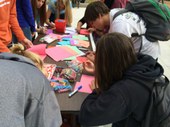 Before diving into the project, the classes learned about military life and heard from guest speakers who gave them a better understanding of what it's like. They then prepared thank you cards and asked their schoolmates to do the same.
For the next week at lunch in the Eldorado courtyard, students and staff are invited to to write letters to military people and their families. All letters collected will be sent to A Million Thanks organization in Texas. The students also created a Facebook page called Eldorado High School: A Million Thanks Project to help get the word out.
Manzano High
Manzano give back to the community in a variety of ways including the annual Angel Adoption program for YDI. Each year, students and staff "adopt" children ages 3-6 and buy them gifts for the holidays. Normally, the high school buys for about 60 children, but the demand is much greater this year, so the Monarchs are being asked to help make the holidays special for about 100 children.
Teachers get involved, as do classes, organizations, teams and others, all adopting  students to buy and give gifts tor. Student Senate then delivers these gifts to YDI in December.
"The looks on the kiddos' faces are remarkable," said Activities Director Jennifer Huynh-Arnold. "These kiddos may ask for toys, but many just want a warm jacket and pants for the cold season. Either way, all adopters make sure each child receives something for the holiday season."
Washington Middle School
The Young Philanthropists at Washington Middle School will participate in several activities this holiday season. On Wednesday, Nov. 27,  the students will sacrifice their holiday time and serve Thanksgiving dinner to the needy at the Convention Center.
They also are working with The Storehouse of Greater Albuquerque collecting canned goods and nonperishable items to put together food boxes for needy families here at school.
They will also continue their tradition of Christmas caroling at a shelter. Last year, more than 100 students participated.
11-12-13
Georgia O'Keeffe Elementary
The second-grade RAMS family at Georgia O'Keeffe Elementary has been busy this year learning about every aspect of their community. Even their name explains their purpose – Reaching Across Many Societies! They have hosted a grandparents day, created their own Roxaboxen towns, and are now having a sock and underwear drive for the APS Community Clothing Bank.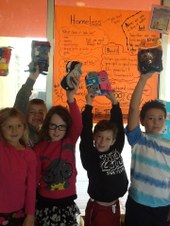 This year the school is piloting a program in second grade, which divides students into families with a family leader who is an adult at the school. This way, they are in smaller groups and they get to know grownups in the school so they feel safe and more ready to learn. When they meet on Wednesdays, the families do a fun project. One Wednesday, they read the book, Selavi, which taught students about homelessness and that "alone we are a drop of water, but together, we can be a mighty river." They are learning that they must help each other to become strong.
They decided to collect socks and underwear in the month of November for the clothing bank and students are learning math at the same time. They are graphing their progress with a goal of 100 packages. Did you know that 10 packages times 10 packages is 100 packages? Students are grouping by 10s and learning that each package holds 6 pairs of socks or 6 pairs of underwear so they are multiplying using arrays to figure out how many pairs of socks and pairs of underwear we are donating.
They are working together to create a mighty river and learning lots of math too!
Volcano Vista High School
Volcano Vista recently had a food drive competition: clubs vs. athletics vs. classrooms. Students filled five barrels with food and donated it to the Roadrunner Food Bank. The Key Club won the competition with each member bringing in eight items; they will receive a pizza party.  Student Senate brought in more than 500 cans.
The Student Senate also recently wrote more than 200 letters to our veterans thanking them for all they have given up for us. The school's AFJROTC sought out veterans on staff and provided them with a special recognition.
In December, VVHS clubs and classes will adopt a child and/or family from PB&J Family Services and provide items from their holiday wish lists.
James Monroe Middle School
For the past five years, James Monroe has had a giving tree. School counselors Ms. Barbour and Ms. Ortega compile a list of 50 to 100 students in need and ask them to fill out an anonymous tag with their gift "wish".  The tags are pinned to the tree and JMMS students, parents, and staff members take a tag and purchase a gift.  The PTSA and Bullying Prevention student group help wrap and distribute the gifts.
Rio Grande High School
The Rio Grande High School Students Senate sponsors several community activities during the holiday season.
This week, Senate is sponsoring a food drive contest for Roadrunner Food Bank. Students are competing through their fifth period advisory class to see who can donate the most food. The last time RGHS did this, they collected 600 pounds of food. They are trying to beat that number this year.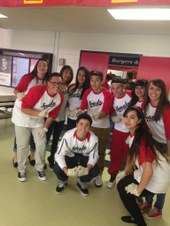 On Thursday, the Ravens will sponsor their annual Thanksgiving lunch for senior citizens from nearby community centers. Students decorate the school's commons area, host the luncheon for about 150 guests and provide entertainment.
On Nov. 24, student senators will work a two-hour shift sorting food donated to Roadrunner Food Bank and preparing food for distribution.
"Rio Grande students are incredibly generous and conscientious," said RGHS activities director Jean Marie Baca. "They are very aware that there are people around the city that need help, especially during the holiday season. Our senators, and student body as a whole, want to help the community and have a positive impact on the lives of those around them."
Garfield Middle School
Mrs. Ferryman's class at Garfield Middle School conducts an annual clothing drive to support the APS Community Clothing Bank. They recently delivered a carful of clothing to the clothing bank. Now that the clothing drive is over, the class has begun its annual food drive. This is a decade- long tradition at the school. Last year, students were able to provide 20 families in the Garfield community with Thanksgiving dinner. This year, they are hoping to be able to provide more families with the holiday meal.
Sandia High School
The Sandia High Student Senate trick or treated for cans during Halloween week, walking through neighborhoods and collecting more than 3,100 pounds of food for the Food Bank. Those pounds will allow Roadrunner to distribute more than 2,580 meals.