News from 2013-2014
Smith's Donates $58,000 to APS Schools, Programs
North Star Elementary, one of the district's biggest recipients, got $3,200 to support technology learning.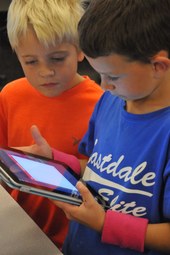 Schools and programs in Albuquerque Public Schools are recipients of $58,000 from Smith's Food & Drug Stores through its annual Earn and Learn rewards program.
APS Superintendent Winston Brooks accepted a check from Smith's district manager Ryan Peacock during a celebration at North Star Elementary earlier this week. North Star was one of the biggest APS recipients, receiving $3,201.85 that it plans to use for technology.
"We rely on the support of great business partners like Smith's to help us enhance programs in our schools such as the technology at North Star," said Brooks. "We are grateful to Smith's for continuing to support our kids and our schools across the district."
More than 90 APS schools and programs are receiving a portion of the $58,000 in cash contributions based upon their level of support from shoppers in Smith's Earn & Learn Program. Valley High JROTC was the biggest APS earner, getting $5.927.20. Other high earning APS schools include
7-Bar ES with $3,804.07
Sandia HS JROTC with $3,489.99
Dennis Chavez ES with $2,371.93
Hubert Humphrey ES with $2,351.05.
In New Mexico, 354 public and private K-12 schools are receiving a portion of $211,153 from the program.
Since the program began in September 2000, Smith's has gifted more than $16.4 million to K-12 schools across the nation. The donation is unrestricted and schools may select the most appropriate use of the gift.
To enroll in the Earn & Learn program, parents of students present a letter from their school with a bar code that links the person's rewards card to the school.  Each time the rewards card is used for a purchase at Smith's, the school earns money.  Enrollment in the program must occur at the beginning of each academic year. Eligible schools must be a qualified 501(c)(3) nonprofit, state-accredited, K-12 school located within Smith's operating areas in New Mexico.