Highlights
Grounds Department highlights
Grounds Department's new leadership team yielding notable results
Three individuals were at the helm of managing the Department between 2009 and 2015, all having moved up from Grounds technician positions. That's quite a lot of leadership shuffling for the large and pivotal department responsible not only for every square inch of the District's outdoor real estate but also vital in aiding other M&O departments for many with repairs requiring welding and heavy equipment assistance.
With the retirement of Acting Manager number three in 2015, the Executive Director took a different approach in appointing Fred Montano, the long-standing Manager of Building Services, to oversee the Department and personnel that had undergone too much flux for too long. Although Mr. Montano, taking over Grounds at the start of the 2015-16 FY (while still overseeing Building Services), may have limited grounds experience, he was a proven manager and just the ticket to stabilize the Grounds Department.
Morale has never been better and significantly improved productivity has followed. Mr. Montano credits his newly appointed Supervisors and Assistant Supervisors for the positive transformations in every Craft Shop. Likewise, the Supervisors (featured below) credit their new and competent Manager for empowering them to independently apply their many years of experience and knowledge of APS to lead their crews. All employees across the board are also now held accountable and glad for it, and are also working better in assisting other departments. Mr. Montano has effectively turned Grounds into a high performing department.
Preventive maintenance increased 77.4% department-wide
Grounds Department personnel hit their ground running in 2015-16 like never before. The remarkable 77.4% increase in PM work over the previous year is due to assuming preventive maintenance work previously conducted by contractors as well as stepping up existing PM programs. More accountability is also credited for increased PM and productivity across all Craft Shops. Reactive work orders also increased as crews present on school sites to address requested work took the initiative to survey the campus and execute any detected needed repairs. Mother Nature also contributed to the heightened work activity in 2015-16. Torrential rains encouraged weed growth, unwelcome mosquitoes, and other insects, as well as increased mowing and vegetation trimming and grooming. Strong winds called for heavy equipment operators to clean-up downed trees and other debris. All this in addition to the already scheduled work placed more stress and pressure on the department.
Landscaping, Trees, and Weed and Outdoor Pest Control Shop
Previously a landscape technician, Mr. Bennie Baca (Assistant Supervisor) replaced a retiree and immediately initiated more expedient procedures including better utilization of PM Direct. He is exceptionally conscientious, needs little supervision, and is adept at employing the right vendor for each specific task. He credits his crew that has gladly stepped up to the plate and exceeded his expectations. As all technicians comprehend that in suitably maintaining outdoor learning spaces for the students, their jobs are much larger than tending to weeds and flora! Mr. Baca is also resolute in keeping technicians abreast of the training required to work with new products and materials, including synthetic turf.
Weed control PM work orders up 9.8%, reactive work orders down 33.5%
Mr. Baca has completely changed the approach to battling pernicious weeds in initiating a new two-point PM program that increased preventive maintenance work orders by 9.8% resulting in a dramatic 33.5% decrease in reactive work orders. The horticulturalists are no longer reacting to work requests to eradicate a few weeds but rather proactively tackling many more at one time. They are also educating custodians, Principals, and administrators on the new program so they know not to issue work requests. Pre-emergent weed control, conducted in October, prevents weeds in weed-prone areas from ever revealing themselves. Post-emergent weed control, carried out in March, exterminates established and growing weeds. The PM cost ratio increased 48% over the previous year, weeds are much more under control, the schools are happier, and the District is quickly getting sites in compliance with the New Mexico Department of Agriculture.
The Shop is also incorporating more organic manual approaches to eradicating weeds including shoveling it out or using tractors for larger jobs. While chemicals certainly serve their purpose, pesticides are not always the smartest and most efficient solution.
Landscaping reactive work orders down 33.7%
The Landscaping Shop has realized the same success as the Weed Control Shop — reactive work orders have declined 33.7% due to technicians doing a more thorough job of cleaning up the site with each work request. Rather than just trim one overgrown shrub as requested, all foliage is inspected and trimmed as needed.
Outdoor pests defeated to 257.6% increase in PM work
Outdoor pests received a great deal of attention in 2015-16 over recent years. Reactive work orders increased by 154.1% and PM work increased by a dramatic 257.6%. The existing PM program was heightened with horticulturalists visiting campuses more frequently in proactively combating the eternal problem of bothersome pests.
Tree trimming services increased by 451.6%
2015-16 was also a very busy year for tree cleanup. As the District's trees are getting older and bigger, they are becoming more of a health hazard. The violent winds and heavy rains caused many fallen limbs and other tree damage. To save the trees and ensure safety to the students, contractors assisted in quickly attending to the issue saving all but one tree throughout the District.
Irrigation Shop
Previously an irrigation technician, Mr. Leonard Mendoza (Acting Assistant Supervisor) assumed control from the Water Resources Specialist of the MIR 5000 (the radio controlled District-wide irrigation system) in better aligning technicians' field work to the MIR 5000 central control system. Programming, scheduling, and communication between Mr. Mendoza and field technicians are all vastly improved; as a result, the efficiency of the irrigation system, along with technician performance, has also markedly improved. Due to newly implemented and staggered communication timeframes between the MIR 5000 and irrigation controls, technicians are now able to work with the irrigation schedule, not compete against it. In addition, Mr. Mendoza is working much closer with MIR 5000 tech support in enhancing the performance of the sophisticated system and better utilizing helpful features. 
In assuming his new role, Mr. Mendoza was also immediately charged with launching an improved irrigation PM program to streamline efforts. While PM work initially increased radically (note the following Highlight), a forthcoming decrease is expected as the new PM program becomes more effective. He is also working with the M&O Executive Director in assessing the viability of drilling irrigation wells at the most opportune school sites, such as Ernie Pyle and Taft Middle Schools, Albuquerque High, and Los Padillas Elementary in taking advantage of water rights owned by APS in both saving in water utility costs as well as perfecting the District's valuable water rights. 
Mr. Mendoza recognizes the contributions of Fabian Garcia, Lead Technician, in greatly assisting in the Shop realize the following 2015-16 achievements.
Irrigation Shop increased preventive maintenance work by a dramatic 649.8%
There are multiple reasons for this seemingly implausible increase in PM work: 1) Previously, one PM work order was generated for a "route check" and many sites and systems were inspected on that single work order; 2) Better utilization of PM Direct is more accurately identifying and tracking the number of PM work orders (distinguishing from reactive), and 3) More PM is also actually being conducted as technicians aren't waiting for breaks on the manual controls. The central MIR 5000 monitors and immediately identifies most controllers' issues, but manual controls are still in use at many sites. Techs are now assigned to perform either exclusively PM or reactive work which has enabled the PM crews to inspect sprinklers and other devices more thoroughly and regularly catch little matters before they become large problems. Additionally, more systems that could have been controlled via the Internet but weren't, have been moved to the central system freeing up much time to perform other needed work.
Transitioned three school sites from Motorola irrigation controls to Rainbird
As the longstanding Motorola units (that communicate with the valves that open and close the water flow) malfunction, they are being replaced with Rainbird units in problem areas where Motorola is not appropriate. Should one Rainbird unit shut down, all the subsequent irrigation sites are not automatically shut down in response. An alarm alerts the techs to manually turn on the Rainbird and inspect the system. Rainbird units were installed at Los Padillas, Tierra Antigua, and Marie Hughes Elementary Schools.

Irrigation backflow procedures significantly improved
The need and use of contractors is irrefutable and often the wisest approach, but as the following demonstrates, M&O crews possessing ownership and pride in their work are indispensable. Mr. Mendoza implemented the following three new procedures in 2015-16 in greatly improving the performance and maintenance costs of the District's approximately 350 irrigation backflow assemblies.
Procedure 1: Transitioned all annual backflow testing from contractors to in-house state licensed technicians. With irrigation technicians now conducting 100% of this work, the District expects to save approximately $30,000 −$40,000 annually.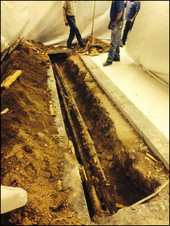 Procedure 2: Began upgrading backflow prevention assemblies. In M&O techs taking over the task of backflow testing, they discovered that many units were not freeze protected, hence not in compliance with the Albuquerque Bernalillo County Water Utility Authority. The Irrigation Shop expects to have all assemblies upgraded by the end of the fiscal year in preventing the flooding caused by frozen pipes bursting.
Procedure 3: Organized and cleaned-up backflow testing database records. Also as a result of in-house technicians assuming testing previously performed by outside contractors, it was discovered that some devices were not identified properly or at all in the database. The location of some units was incorrect, and APS was paying for backflow assemblies owned by the City of Albuquerque Parks and Recreation Department and Bernalillo County. (The status of joint-use fields shared between APS, the City, and the County fluctuate requiring the update of billing procedures and records.)
Began process of labeling and identifying irrigation program lines and descriptions of irrigation stations
Technicians have experienced unnecessary confusion while working in the field due to the many distinctly different program lines and irrigation stations. Clear labeling of lines and detailed descriptions of irrigation stations simplifies and fast-tracks tasks as well as makes for a more user-friendly MIR 5000.
Heavy Equipment and Paving Shop
Possessing 14 years of experience in the Grounds Department, Mr. Philo Ramirez (Assistant Supervisor) was highly qualified to replace a retiree. Previously a Playground Shop tech and more recently a heavy equipment operator, he has increased communication between his crew as well accountability — from his own down to every technician. Mr. Ramirez has tackled the long overdue task of cleaning up many "on hold" and "pending" work orders. Extremely knowledgeable and professional, his leadership and skills set have passed muster with all technicians.
Replaced sorely needed equipment
The Grounds Department is in dire need of updated equipment and made a bit of progress in 2015-16 with the replacement of asphalt cutters and compactors as well as jumping jack tampers used for trenching and compacting dirt.
Paving improved District-wide
The Paving Shop performed 30.3% more work orders over the previous year, much more than ever before. Simply stated, much of the District's asphalt is old and old asphalt buckles, cracks, and wears thin. The roots of APS' long-standing trees also raise and break asphalt. These long ago paved lots have been screaming for attention and under the direction of the new Assistant Supervisor, they are getting it! Mr. Ramirez reclassified "on hold" projects (scheduled for repaving by contractors) to "just do it now in-house" projects. Many repaving and other "middle" classified projects (more than a repair but less than a repave), customarily performed by contractors were carried out by M&O technicians. The schools are quite pleased and the technicians are more challenged and rewarded.
Playgrounds and Portables Shops
Mr. Rick Leydig, with the Department for 16 years, is Grounds' most tenured Supervisor. He has adeptly headed the Playgrounds Shop since 2007 and recently also assumed supervision of the Portable Shop.
Playground Shop improved use of PM Direct in more accurately tracking preventive maintenance work
The 53% increase in PM work actually signifies the improved use of PM Direct which has simplified and made PM work more achievable.
Expanded playground equipment-use training for schools
The Playground Shop provided classes to teachers regarding what to watch for in observing children playing on equipment; how to correct students' misuse of equipment; how to guide them in playing safely; and how to spot and report damaged equipment or a potential safety hazard.
Enlisted the support of vendors in identifying playground equipment with possible issues
Although the inspection of equipment is on a PM schedule, the more eyes on the job, the less likelihood of injury. Vendors were asked and agreed to inspect all their manufactured playground equipment when they are on the site regarding a specific piece of equipment (providing training, or installing equipment) and inform the Shop Supervisor of any found issues. The vendor photographs the questionable equipment for the Supervisor who sends a technician to verify its condition. It's a win for all parties; the vendor has an opportunity to make a piece of equipment safe; students are safer as potential breaks are identified before an accident; and in-house inspection time and repairs are lessened.