Introduction
About the Fleet Maintenance Department
Dale Krezan, Manager
(9 years with APS outside of M&O, manager 4 years) 14 Technicians and Support Personnel
Fleet Maintenance responsibilities includes Vehicle Maintenance; Specialty Equipment Maintenance (small engine grounds equipment); Tire and Towing; Fuel Station/Propane Dispensing; Lincoln Complex automated security gate access and fueling systems maintenance; initial point of contact for vehicle accident processing insurance claims and repairs; and APS Drivers' License issuance, driver's license background checks, and management of the fleet program.
The Fleet Maintenance Department maintains the District's wide array of safe, dependable, and fuel-efficient fleet of approximately 750 vehicles. Included in this inventory are cars issued to administrative leadership and APS Police; M&O's all-inclusive assortment of service vans and trucks and commercial earth moving and other heavy equipment (backhoes, loaders, trailers, water trucks, road graders, snow removal equipment, and wreckers); and refrigerated box trucks used by APS Food and Nutrition Services. Department personnel also service grounds maintenance equipment consisting of over 7,000 pieces of machinery located at schools, M&O departments, and other sites throughout the District. These include riding and push lawn mowers, trimmers, hedgers, blowers, chainsaws, golf carts, gators, and other miscellaneous motorized equipment too numerous to list.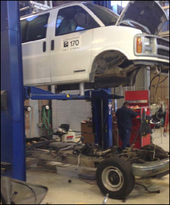 The technicians hold a mechanic certification; State of New Mexico Commercial Driver's License (required to operate heavy equipment); an Air Care Station certification for conducting emissions and issuing "passed" certifications on site; and are also skilled welders and fabricators. APS' in-house fleet maintenance operation results in an innumerable time and cost savings to the District. 
The Department's Tire Shop technicians provide road repairs and wrecker service. The sole Fuel Station technician monitors the fueling system that dispenses over 1,000 gallons of unleaded gasoline and approximately 300 to 500 gallons of diesel fuel daily to operate APS' and CNM's (reimbursed to the District) fleet of vehicles. The Fuel Station also provides propane gas for roofing equipment, Materials Management forklifts, heavy equipment, and other miscellaneous small equipment. Fuel is purchased at spot price weekly and delivered to the Fuel Station through a negotiated contract with a wholesale distributor. Fleet vehicles can also be handily power washed and interiors vacuumed at any time during the duty day by staff/drivers.
Unlike the other service departments, Fleet Maintenance's work orders are managed by two computer software systems. FleetVision "smart tracking" software is utilized for vehicle maintenance control that includes vehicle history; driver information; VIN and license plate  numbers; maintenance records; PM due notification; and vehicle fueling history that includes quantity, date, and miles to the gallon. The Department's work orders are managed by SchoolDude to track all work activity including labor, materials, and cost. The dual entry system ultimately provides for more accurate WO data, better fleet control and management, efficient customer service, and the ability to make databased operational decisions.
Lastly, Trak Engineering's Dream Island software is a security system that monitors and records all APS and CNM vehicles entering and exiting Lincoln Complex during off-hours when the Complex is locked down. Dream Island is an electronic key system that coordinates the Fuel Station information that is exported to the FleetVision software system.
In the unfortunate case of an accident, the Department's administrative responsibilities include obtaining vehicle body repair estimates from vendors, directing the repairs, and coordinating all activity with Risk Management, as well as guiding APS drivers through the post-accident process. The Department also manages the M&O APS Driver's License program which involves running monthly drivers' license background checks on all approved APS drivers as well as staying abreast of their state drivers' license (including CDL) status with the New Mexico Motor Vehicle Department.