Introduction
About the Environmental Department
Van Lewis, Manager
(20 years with M&O, manager 10 years) 9 Inspectors/staff
The Environmental Management Department is staffed by certified Environmental Inspectors charged with conducting federally mandated inspections and overseeing the remediation of any environmental quality issues that are identified. APS' Inspectors maintain over 20 specialized certifications and licenses that include Asbestos Contractor Supervisor, Asbestos Inspector, Asbestos Management Planner, and Asbestos Project Designer. Certifications are also required in Hazardous Waste Operations, Water Quality, Waste Water Systems, and Indoor Air Quality.
Clean and safe indoor air is indispensable to teachers' ability to instruct and their students' ability to grasp the lessons and apply them successfully. In guaranteeing the welfare of students and other occupants of APS facilities, the District has been in the forefront of the nation's public schools since the creation of its in-house environmental management department in 1989 (in response to asbestos abatement legislation soon becoming effective). M&O's Environmental Management Manager and inspectors provide top quality environmental services saving inestimable costs and time over engaging outside inspectors and contractors. Personnel stay current on new EPA regulations as they come into effect and are duly credited for APS never failing an EPA asbestos inspection audit or being cited for non-compliance of any environmental regulation.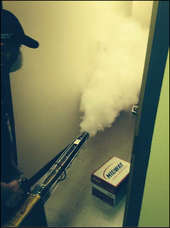 Certified in numerous environmental disciplines, APS environmental inspectors perform scheduled EPA and OSHA delegated inspections and direct the resolution of discovered pollutants that include asbestos, mold, lead-based paint, and radon. Department personnel also mitigate and oversee the safe handling and removal of contaminant materials (floors, ceilings, walls, and plumbing) present in repairs performed by M&O departments as well as demolitions and renovations conducted by Facilities Design + Construction. The pertinent Supervisor or Manager must request an AHERA Compliance Work Plan prior to starting any project where contaminants are detected. The environmental inspectors must first review the site's history, sample the affected materials for analysis, and generate the AHERA permit that strictly specifies how to execute the work safely.
Lastly, in meeting federal and state compliance, the Department also conducts scheduled drinking and wastewater sampling. In the rare event that irregularities are found, the water condition is immediately restored long before toxicity looms.
Unlike the other M&O service departments, Environmental Management does not have a PM program as their work does not prevent future maintenance. PM Direct, however, is effectively utilized to manage inspection schedules.
The District's decision to launch its own environment program almost 27 years ago has far exceeded expectations. It was quite an ambitious . investment and undertaking at the time that has paid for itself many times over. APS assumed control over costs, liabilities, quality of performance, scheduling, and turnaround time with the astute choice to oversee its own environmental issues to the benefit of students, teachers, other occupants, and taxpayers.