Introduction
About the Electrical Department
Ron Gallegos, Manager
(28 years with M&O, manager 25 years) 28 technicians and support personnel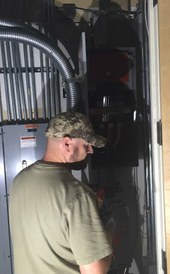 Electrical Department Craft Shops are comprised of Electrical (includes back-up emergency generators); Industrial Arts Repair; Audio Visual; Electronics; Business Machines Repair; Fire Extinguisher Service; Elevators (inspections by City of Albuquerque and service handled by a contractor); and Technology Infrastructure.
Much like the Mechanical Department, the responsibilities of the Electrical Department are pivotal to the smooth operation of classrooms, computer and science labs, gyms, libraries, performance arts centers, kitchens and cafeterias, and the many administrative facilities that support the schools.
Long gone are the days when school districts' electricians merely kept the lights on and the typewriters powered. Today a downed electrical system at a school shuts down the educational day as smart boards, computers, and their many related peripherals go black. This is rare at APS because the Electrical Department consistently stays ahead of the eight ball in keeping the District's sophisticated electronics and technology amply powered at schools and offices. But their work has expanded far beyond just ensuring sufficient electricity that the schools have come to depend more and more on with every graduating class. They have to concurrently stay abreast of upgrading the electrical infrastructure required to accommodate new energy saving technology and products being introduced at a rapid fire rate, much of it directed by federal regulations to reduce energy consumption. And reducing energy use and its cost is yet another responsibility that the Department is challenged to meet, all the while without conceding an environment favorable to learning and security. APS' journeymen electricians are required to be far more versatile than those of even just ten years ago in meeting the District's infinitely evolving teaching methodologies and industry advancements, all the while saving APS resources and the environment. All technicians are committed to never allowing electrical glitches to hinder students' focus on learning while simultaneously consuming the least about of wattage possible.
The Industrial Arts Repair Shop provides the students with well-maintained and safe equipment and tools for a hands-on industrial trades learning environment. These technicians service a vast array of teaching machinery that includes science equipment; microscopes; scales and balances; sewing machines; paper cutters; kilns; potting wheels; ice machines and appliances; auto, welding, and wood shop equipment; and numerous other pieces of instructional related machinery. The Fire Extinguisher Shop is responsible for keeping the District's thousands of fire extinguisher equipment up to code. The Shop is 100% self-sufficient (no work is contracted out) and entirely PM with the exception of vandalism and theft of extinguishers. Completing the team is the Technology Infrastructure Coordinator, a journeyman electrician charged with coordinating and synchronizing the installation of new electrical infrastructure for technology systems, as well as mechanic and electronic equipment, throughout the District.