2013: Men and Women at Work
Today's M&O technicians stay current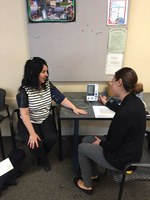 As there is no sustaining aging but stately schools or performing general maintenance throughout all schools without qualified and steadfast technicians, the 2013 Report honored the extraordinarily knowledgeable, skilled, and dedicated technicians that value and fully embrace being part of the education team. They know that when lights go out in a classroom wing, it is not darkness they resolve; it is the continuation of the instructional day that they immediately restore. This instilled support of education culture — the soul of M&O — that flows down from leadership is embedded in every crew and manifested in every job; it is what separates our tradesmen from others who perform the same jobs elsewhere.
Cutting-edge technology demands sharper crews and technical professional development
It cannot be overstated — today's M&O technician is no longer a person with a tool belt and lunchbox, because today's schools are no longer comprised of classrooms with a chalkboard and desks lined up in neat rows. APS' techs have advanced from those who simply repair what is faulty, replace what is beyond repair, and clean what is soiled. As schools have evolved from basic classrooms to extensive sites with performing arts centers, science and computer labs, and more, M&O technicians have kept pace with the schools' steep ascent in complexity and technology.
By necessity, today's M&O technicians continually expand their knowledge and skills in staying current and in step with evolving technology and innovations. Yes, APS techs still pound nails with hammers and expose buried plumbing systems with shovels, but they now also pack an electronic tablet to track their work orders, materials, and hours; communicate with each other, the schools, and vendors in a timely fashion; bypass auto controls in increasing lighting at school gyms for a special event; or rev up a heating system to prevent pipes from freezing. Technicians are as 21st-century tech-savvy as they are tool competent and becoming more so every day. Their ongoing professional development is in support of the education process, first and foremost.