City Center updates
Mechanical and electrical updates made in the Alice and Bruce King Educational Complex (formerly City Center)
Variable frequency drives updated in both towers
As shutting down power was necessary, the upgrades in the east and west towers' mechanical rooms were carried out over a couple of weekends in the fall of 2015.
The contractors were provided the opportunity to stage their equipment during the week prior to the start of the complex and multiphase project that included the replacement of large motors as well as the re-install, balancing, and alignment of return and supply fans. The equipment and motor required lifting to the mechanical penthouses by a large crane.
Three established and proven contractors proficiently completed the task on a tight schedule.
City Center replacement of electrical distribution gear completed through Phase III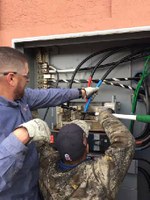 In addition, contractors are replacing the electrical distribution system to improve overall capabilities and performance.
Phase 1 of an electrical upgrade replaced 30 plus-year-old switchgear and busway in both towers.
Phase II replaced all the old electrical panelboards in existing electrical rooms and brought each floor up to code.
Phase III replaced the existing penthouse gear and enable isolating power on each floor without having to shut down the entire tower.
Phase IV will complete the job in the 2016-17 FY.