Vandalism and graffiti
M&O crews worked around the clock in cleaning up extreme vandalism totaling $407,618
It was a particularly unfavorable year for deliberate and unfathomable ruin at District schools. While vandalism dropped dramatically in 2011 due to stepped-up security and APS Police vigilance, it unfortunately suffered an upswing of 38.2% in 2015-16 over the previous year. The $407,618 price tag for 2015-16 damages listed in the table below is attributed to the sheer force of these assaults. Hundreds of windows were broken District-wide with John Baker and Kit Carson Elementary Schools and Jackson Middle School hit during Labor Day weekend. The most extensive destruction occurred at La Cueva High School and Wilson Middle School as described below.
Vandalism Costs

| Year | Cost |
| --- | --- |
| 2008-09 | $621,581 |
| 2009-10 | $562,788 |
| 2010-11 | $622,000 |
| 2011-12 | $292,000 |
| 2012-13 | $252,219 |
| 2013-14 | $323,723 |
| 2014-15 | $294,946 |
| 2015-16 | $407,618 |
La Cueva High School targeted multiple times
M&O crews pride themselves in swiftly restoring damaged classrooms caused for any reason. This often requires working all night or throughout the weekend in not affecting students or their class time. That was simply not possible due to the destruction caused at La Cueva High School. It was vandalized a number of times within a month racking up $49,500 in damages that included destroyed windows (44), many doors and cabinets, and equipment including a smartboard. The most serious of the incidences occurred in the early morning hours of November 9, 2015. Prior to leaving the shattered premises, the vandals turned gas valves on in the science lab risking an explosion that would have caused devastating destruction. It was the third time the lab had been damaged in seven days. Tips from students and area residents provided enough information to help in identifying the miscreants. Window replacements took two weeks while students in one classroom were relocated to another available classroom. There was no disruption to the education process during the widespread repair activity.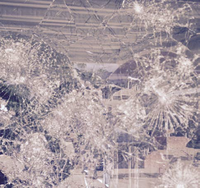 Vandals inflicted exorbitant mayhem at Wilson Middle School
The vandals caused approximately $80,000 in damages at Wilson Middle School the night of December 22, 2015. While students were enjoying the holiday season during winter break, the vandals thought it would be fun to splatter paint throughout eight classrooms; overflow sinks; topple computers and furniture; smash science lab materials; demolish four Promethean interactive whiteboards valued at $5,000 each; and destroy years' worth of classroom work. The delinquents also pilfered three Apple Computers and a couple of laptops. APS crews returned to work during winter break to restore the school in time for the start of the spring semester. Once again, surveillance video aided authorities and investigations.
Graffiti up for first time since 2007 (1.17%)
Unsightly graffiti is a given at APS and throughout the city. As represented by the declining graffiti work order numbers below, the District has been unrelenting in preventing taggers from their desire to sully school sites. While they were able to get to a few more schools in 2015-16, security systems and procedures are continually reinforced and graffiti removal is immediate in every case, small or large.
Graffiti Work Orders

| Fiscal Year | Work Orders |
| --- | --- |
| 2007 | 760 |
| 2008 | 655 |
| 2009 | 693 |
| 2010 | 541 |
| 2011 | 503 |
| 2012 | 455 |
| 2013 | 387 |
| 2014 | 353 |
| 2015 | 339 |
| 2016 | 345 |