Employee Resources
Resources for teachers and district employees including Language Proficiency Testing Assistance Request Form
Translation and Interpretation Services
The Translation and Interpretation Services office will provide interpretation and translation services for schools to facilitate communication with non-English speaking parents. Learn more about Translation Services
Tuition Reimbursement Program
LCE provides tuition reimbursement for teachers in a planned program of studies to complete a bilingual or ESL endorsement.  There is an application process for this reimbursement.  Learn more about Tuition Reimbursement
Language use data forms available here
Language Proficiency Testing Assistance
LCE provides assistance to schools in meeting their Language Proficiency testing responsibilities through the following services:
Testing specialists available to help schools with testing in both English and Spanish, upon request;
A resource teacher who trains school personnel to administer and score ACCESS for ELLs and the Spanish LAS Links.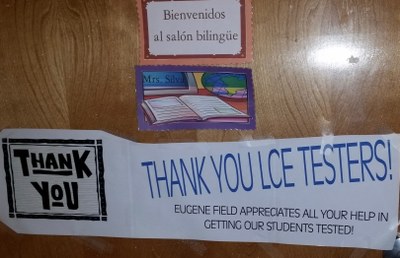 For testing assistance and support, contact Christoph Brunder at 881-9429 Ext. 80077.
Special Education Issues
Consultation is available to district and school-site personnel regarding intervention strategies, referral, and testing of limited English proficient students for possible special education services. For technical support, contact an LCE instructional manager at 881-9429.
Sheltered Instruction
Sheltered instruction is an approach to teaching English language learners which integrates language and content instruction. The dual goals of sheltered instruction are: # to provide access to mainstream, grade-level content, and # to promote the development of English language proficiency.
Here is a link to information that addresses some commonly asked questions regarding sheltered instruction: www.brown.edu/academics/education-alliance/teaching-diverse-learners/strategies-0/sheltered-english-instruction-0
Read LCE newsletter articles dealing with Sheltered Instruction
WiDA
The WIDA English Language Proficiency Standards are recognized worldwide for their innovative approach to measuring academic language development in English. From those standards, various WIDA assessments have been developed to evaluate student progress according to the WIDA proficiency scale, including ACCESS for ELLs® which is administered annually in consortium member states to comply with federal accountability requirements in the United States.
Making Connections
Making Connections newsletter articles regarding language, literacy and learning, archived by subject. Visit the Making Connections archive