Tools for Schools
Family Engagement Resources
For further support or questions on family engagement resources, please contact us.
Summary of Family Engagement Resources

Family Engagement Assessment Tool (Rubric)
The rubric is a set of indicators that schools can utilize to conduct a self-assessment of their FE efforts and to develop a targeted action plan. 
Family Engagement Procedural Directive Activities
Overview of APS Family Engagement procedural directive and related activities.

Monthly Training for Family Engagement Liaisons, School Family Contacts and Community School Coordinators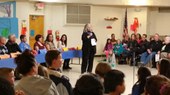 Participants will learn about family engagement best practices, Title I policies  and will leave with tools, strategies and ideas to promote family engagement in their school.  Liaisons and CS Coordinators will work more effectively together.
Provides an overall awareness of poverty and how it affects our APS students and their families, with the goal of increased academic achievement for students faced with the challenges of living in poverty.
School Title I Family Engagement Policy
To inform families of effective parental opportunities to improve student academic achievement; developed jointly with schools and families.
Teachscape/Teacher Evaluation Crosswalk to Family Engagement Assessment Tool (Rubric)
A tool that connects family engagement best practices to Teacher evaluations.
Title I Family Advisory Council
To provide families an opportunity to give input for ways the district/schools may be able to impact Family Engagement linked to learning and revise Title I district documents.
Title I Family Engagement Institute
A yearly event to provide high quality professional development to Title I staff from schools in APS & across New Mexico.
Title I Student-Parent-School Compact
To support families, students and schools with joint efforts and shared responsibilities for improving student achievement in meeting state standards.
Please contact us for the following resources:
Customer Service Training
Support a family friendly / welcoming environment in schools through professional development to front desk staff and other personnel.
Family Engagement Planning Workshop for School Groups
School groups will leave the workshop with a comprehensive year long plan to foster family engagement.
Language Boards

Boards contain interpretation cards with common requests, questions and concerns in various languages (targeted by school) to support families who primarily communicate in languages other than English to be able to access school information and supports.
Mission Graduate/APS Attendance Tool
A document for families that summarizes the need for attendance.
Parent University Connect
On-line or in person learning sessions that provide information to families about APS and our resources and assists in the development of family skills to support student learning.
Parent University Leadership
5 sessions for groups of families from schools to learn leadership skills, support their children's success, and complete FE projects in schools.
Other Tools:
Family Member Volunteer Recruitment
Family Engagement And Academic Achievement 2007
Family Engagement And Academic Achievement 2007 (Spanish)