Family Engagement Collaborative
The APS Family Engagement Collaborative is composed of multiple departments and a representative from the New Mexico PTA. The Collaborative meets regularly, working together to design and implement programs and projects to help meet the district goals for family engagement.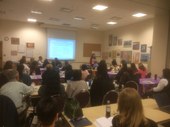 APS Board of Education Goal #3, Family and Community Involvement is defined as "meaningfully engage families and enhance partnerships with community to maximize student achievement."
The Collaborative moves towards this goal through:
Sharing what each department is doing for family engagement;
Determining ways to work more collaboratively on family engagement; and
Determining how to move the "dial" for more positive family engagement in APS.
Identifying how family engagement activities are linked to learning.
Strategic Planning
Purpose
Every student matters.
We believe that partnerships between community, family, and APS are critical for student success.
Families and school staff should be equal partners.
Action Steps
The Collaborative developed Action Steps around three priorities and created a Strategic Action Plan to ensure Action Steps are completed.
Priorities
Strengthening relationships and capacity with families, schools, communities, and district administration
Utilizing data to support schools
Expanding communication
Accomplishments
Customer Service Training for Frontline Office Staff
Poverty Awareness Training
PED School Grade bonus points guidance
Family Engagement Institute (with NMPTA)
Parent University
School Walk-Through Process
Professional Development for Family Liaisons
Provide Support and Information at District-wide Family Engagement Events
Contact Information
Physical Address:
6400 Uptown Blvd. NE Suite 380 West Albuquerque, NM 87110 Map