2019-2020
FAFSA Rodeo Workshop
Saturday, November 9, 2019
from 10:00 AM to 3:00 PM
Location:
Del Norte High School
5323 Montgomery Blvd. NE 87110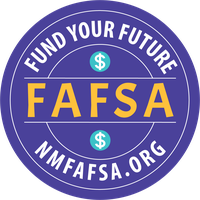 All high school seniors and parents are invited to attend the FAFSA Rodeo Workshop!
What to Expect
Financial aid experts will help families complete the FAFSA. Families will learn about higher education options.
What to Bring
Bring the following identify, family, tax, and financial information so that you can complete the FAFSA at the workshop.
Identity, Family, and Other Info
Both the parent and student need to create separate FSA IDs
Parent(s) and student's full legal names
Parent(s) and student's birth dates
Parent(s) and student's Social Security Number (SSN), permanent resident card, green card, or I-94
(Note: if your parent doesn't have a SSN you can still apply. See Tips section.)
Parent(s) and student's mobile phone numbers and emails (if available, cannot be the same)
List of schools the student is considering
Student's driver's license (if they have one)
Parent(s) marriage status and dates. If divorced, the month and year of the divorce.
Tax and Financial Info
Parent(s) and student's federal tax return (If they have one)
Parent(s) and student's W-2 and other records of income.
Annual amounts of untaxed income received in the household (SSI, Child Support, SNAP Benefits, etc.)
Bank statements and records of investments (the home you live in and retirement accounts are not counted here)
If your parent owns a business with more than 100 employees, or an investment farm, know the total value of the business.
Get Your FSA ID
Save time and get a login for you and one parent/guardian completed before the FAFSA Workshop.
Free Food Sponsored by Dion's!
More event or registration details.