News from the Foundation
Spring into Foundation Fun
Support students and teachers through the APS Education Foundation this spring and have a lot of fun while you're at it.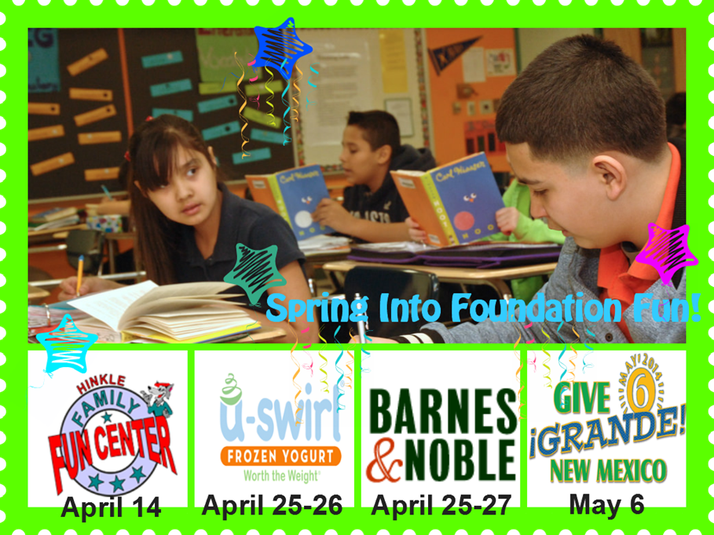 You can help APS students and teachers this spring by playing miniature golf, buying books, enjoying a frozen treat, renting a tux or Giving Grande.
APS partners Hinkle Family Fun Center, U-Swirl Frozen Yogurt, Barnes & Noble and Suits Unlimited are giving a percentage of sales in April to the APS Education Foundation.
In addition, the Foundation is taking part in Give Grande New Mexico, a one-day online giving campaign for nonprofits on May 6 in celebration of the 100th anniversary of community foundations.
The APS Education Foundation supports a variety of initiatives that supplement four major academic programs: Fine Arts, Middle/High School Activities, Literacy and STEM (Science/Technology/Engineering and Math).
Here's how you can help (and have fun while you're at it):

Spend the first day of spring break – Monday, April 14 – at Hinkle Family Fun Center. Hinkle is offering unlimited play on all of its attractions (paintball and game room credits are extra) for $24.95 per person with a percentage of sales going to the Foundation.
Show this flier to get the discount & support the Foundation.

Enjoy a frozen treat at U-Swirl Frozen YogurtApril 25-26. U-Swirl has two Albuquerque locations: La Cueva Town Center, 8104 Wyoming Blvd NE, and Montgomery Plaza, 5011 Montgomery Blvd NE.
Show this flier to support the Foundation


Buy books and other merchandise at Barnes & Noble in Coronado Center April 25-27. The Barnes & Noble Bookfair for the Foundation will include a book signing by Wilson Middle School Principal Ann Piper, author of Education in Albuquerque, from 3-6 p.m. Friday, April 25. If you can't make it to the Bookfair, you can visit BN.com/bookfairs to support the Foundation. Enter Bookfair ID 11344363 at checkout.
Show this flier to support the Foundation.

Rent a tux for prom at Suits Unlimited, 5406 Menaul Blvd. NE. For the fifth year, Suits Unlimited is contributing $10 toward the Seeds of Learning grant program through the Tuxes 4 Teachers.

Give Grande. On May 6th, the APS Education Foundation is joining more than 300 nonprofits in New Mexico and across the country for a national day of local giving. Give Grande New Mexico is a 24-hour event dedicated to raising as much money as possible via online for the Foundation.
Get more information about Give Grande New Mexico.