News from the Foundation
Jennifer McGlothin is an Angel in the Classroom
The La Cueva teacher was recognized by Holman's USA for her work with students with autism.
Jennifer McGlothlin smiles from ear to ear as she talks about her students. "I hug my kids… I just love them. I haven't had a single student that I didn't love."
She works diligently to create an effective, nurturing classroom at La Cueva for students with autism. Originally from Michigan, she holds a master's degree in Occupational Safety Management. Now in her twelfth year with APS, it is clear this career as an educator is her true passion, "I love it. I'm obsessed with it."
McGlothlin has always felt a connection with autism. "I read a book about autism in the sixth grade called 'Sunshine' and remember thinking, 'That is so fascinating!'"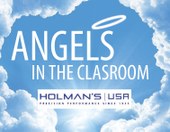 McGlothlin was recruited by a student's parents to apply at La Cueva last year and she hasn't looked back since. She praises the administration and other teachers at La Cueva for their support and acceptance. McGlothlin also credits peer mentors for their help in her classroom. When asked about the secret to her success she pauses momentarily and then replies, "I think that it is really important that they know you care about them…When you care about the kids, they know it. It's almost like they have a sixth sense… They feel it and they want to learn."
Roy and Molli Doyal, who nominated McGlothlin, describe her as an angel. "She also took her own time to visit a speech therapy session to see how my son functioned in other environments and to learn for herself new ways to effectively teach my son. No other teacher has EVER done that."
Holman's USA, LLC supports excellence in teaching, particularly in Albuquerque Public Schools' 90+ autism-specific classrooms. "Angels in the Classroom" honors APS' finest autism teachers and Holman's is seeking nominations from the community. "Angels" will be recognized in the Albuquerque Journal's Business Outlook and celebrated at a reception in Spring 2015. Nominees must teach full-time in an autism-specific classroom in APS. The deadline for submissions: April 15th, 2015. Nominations can be submitted at: www.holmans.com/angels.