News from the Foundation
Gift Idea from the APS Education Foundation
War Horse tickets make great presents and help our kids, too.
Here's a holiday-shopping opportunity that also has an added bonus – you can help the APS Education Foundation.
The Foundation has been afforded the opportunity to sell tickets to the April 29 performance of War Horse, the Tony Award-winning Broadway musical about a boy and his beloved horse during World War I.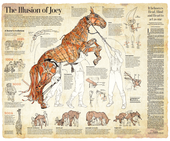 By purchasing tickets through the Foundation, you are participating in a fundraiser plus you and your family are guaranteed to have a terrific seat for a production that had Broadway audiences buzzing for years. And you'll watch it in the state's premier fine arts venue, Popejoy Hall on the University of New Mexico campus.
Buy your tickets now!
Here are a few things to remember:
This very special performance is Tuesday, April 29.
Tickets through the Foundation range from $65 to $95 apiece.
Clicking one of the Add to Cart buttons will take you to Pay Pal, which will process your purchase electronically.
At that point, the Foundation will be notified of the purchase and will inform the ticket distributor to earmark your seats in the area you chose.
Once the Foundation receives the tickets from the ticket distributor, the APS Education Foundation will mail the tickets to you. Due to the holiday season, we will be unable to have you pick up the tickets before Christmas. Your tickets will be available in early January.
For more information, contact the Foundation at 505-878-6165 or email casaus@aps.edu.
Thanks, and enjoy the show!