News from the Foundation
Posted:
November 18, 2022
Donations of Time Prepare Students for Learning
Volunteers make a meaningful difference in supporting student success
This fall, three corporate partners of the APS Education Foundation not only invested financially by supporting the Foundation's grant programs but donated valuable employee time in service of APS staff, students, and families.
"Our employees are committed to giving back to the community where they live, work, and play," said PNMs Pat Vincent-Collawn, Chairman and CEO. "Service is foundational to PNMs longstanding culture and commitment to our beautiful and diverse communities. Our annual Day of Service is one way we demonstrate that commitment to our customers statewide."
PNM employees were seen at Wilson Middle School on October 20th pulling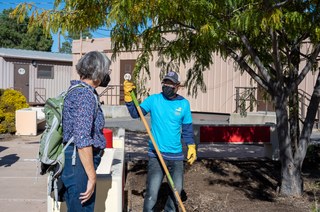 weeds and beautifying a part of the campus that had been ignored for too long.  Principal Matthew Burrows explained that the area would serve as another space for outdoor learning as well as a place for students to socialize and build relationships.
Earlier in the month, 72 Nusenda employees descended upon the Los Padillas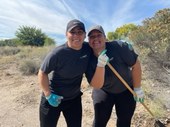 Wildlife Sanctuary.  "October 10th was our 6th and biggest Community Day to date, with more than 340 Nusenda Employees volunteering their time for a day of service", stated Sara Keller, the Vice President of Community Engagement at Nusenda.  "The project combined two of our primary impact areas, Education and Environment and Wildlife. Our employees loved the opportunity to be outdoors and support a space that brings outdoor learning to the students of Los Padillas as well as students across the metro area."
Jennifer Wimberly, Naturalist Resource Teacher at Los Padillas Elementary School stated, "The Nusenda volunteers went above and beyond on their day of service to help clean and prepare our Sanctuary for our soon-to-be 3rd Grade Field Program for all 3rd graders in APS. It was an enjoyable day working alongside the volunteers, talking with them and hearing stories of their own experiences as kids in the Los Padillas Wildlife Sanctuary!"
Katrina Wagner is a Community Relations Specialist at Sandia National Laboratories and also serves as an APS Education Foundation Board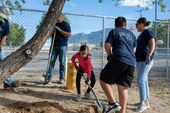 member.  She has coordinated two service projects to support school communities this fall, including building benches at Eldorado High School on October 15th.  She wrote to volunteers, "I had the honor of listening to Eldorado students present during an APS Education Foundation Disbursement Committee meeting last fall about their need for this outdoor wellness space. They addressed mental health issues their peers have experienced. There was not a dry eye in the room and the committee funded their request so they could get started on this student-led project. Your work was more meaningful than providing a seating area at the school. This space will be used for students to learn, connect, rest, and socialize with peers. It also taught them that by showing such initiative and asking for something that mattered to them, there were listened to, respected, and offered help." 
On November 15th, Sandia National Laboratories donated volunteer time at the APS Community Clothing Bank and the McKinney-Vento Program.  They stuffed backpacks full of school supplies and prepared snack bags. 
Erin Leue-Chavez, the Special Projects Facilitator at the APS Community Clothing Bank stated, "We are so grateful to have Sandia National Labs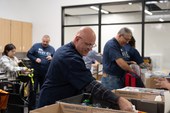 volunteer with us.  Their time makes such a difference.  Having these supplies and resources ready helps our staff meet the needs of our students as soon as possible.  Last year we served over 3,000 students, and this year we are seeing a 25% increase in need.  Students must have these resources to be able to learn and grow.  Basic needs include underwear, socks, coats, and school supplies.  They need these supplies all year round, and cannot attend school without them.  The donations and community support help us move forward and support these students and their families." 
The APS Education Foundation hopes to work with current and new grantees and APS Volunteer Programs and Special Projects to match volunteers with granted programs moving forward.  Volunteers have so much to give, including skills, expertise, and what is most valuable for all of us and in short supply….their time.