News from the Foundation
APS Education Foundation Reports Fall 2022 Grant Cycle
The Foundation awarded innovative programs across the district to provide more students with opportunities to succeed.
Educators from across the district worked with their administrators, their peers, their students, their families, their community partners, district departments, and APS Education Foundation (APSEF) staff to prepare grant proposals.  Proposals to fund innovative approaches to improve outcomes for students and staff must have support because change happens when the creative, the passionate, and the dedicated work together.   
Applying for the Grants
Meetings were held, surveys were sent, data was collected and approvals were given. To apply for an APSEF grant award, applicants must show that their program is innovative.  In many cases, this takes the support of administrations and district departments to provide guidance and support to test the untested.  With funding made available by APSEF donors, these programs are positioned to provide valuable information on approaches that work to address the needs of APS students and staff this year and for years to come.
Find Information About Awarded Grants
Requesting Funds
APSEF Executive Director Shannon Barnhill stated that over $560,000 has been requested this semester alone. That amount surpasses the $553,000 APSEF has budgeted for the entire year. The APSEF Board of Directors' Disbursement Committee reviewed and scored the high-impact grant proposals and hosted in-person presentations for finalists for the Schoolwide Impact Awards and the Guhl Early Literacy Awards before making their final decisions.
Education is powerful ... our grants empower APS teachers, students, and the community.

— Krista Koss Parker, APSEF Board President
"Fall was busy for the Disbursement Committee," said Katrina Wagner, Disbursement Committee Chair, "We reviewed numerous grants and had multiple discussions about the requests the APSEF received. It's really tough to make funding decisions because you can just feel the passion the educators have about giving their students innovative opportunities in the classroom. I wish we could fund them all!"
Thank You Volunteers!
Community leaders from across the city volunteered their time and expertise to serve on grant reader panels to review the Classroom & Grade Level Learning Award, Student Clubs & Activities Award, and the Transformative Idea Grant  (TIG) Award proposals.  After scoring each application, they met for a discussion to make their final decisions. So far, over $200,000 has been disbursed to APS departments, schools, classrooms, and out-of-school time programs.  
Many Proposals, From Robotics To Diversifying Book Collections
From computer science initiatives including robotics and drones to maker-spaces and field experiences to diversifying book collections, the proposals included a wide array of focus areas.  One common theme among all proposals is that educators aimed to provide all students with opportunities to succeed proposing programs that would break down barriers to meet the needs of their students.
Summary of Awarded Grants
Classroom & Grade Level Learning: $22,112 awarded, impacting 1,137 students, 70 staff.
Guhl Early Literacy: $28,731 awarded, impacting 832 students, 62 staff.
Pepsi Prepare To Succeed: $5,000 awarded, impacting 778 students, 7 staff.
Schoolwide Impact: $63,268 awarded, impacting 1,413 students, 317 staff.
Student Clubs & Activities: $25,725 awarded, impacting 252 students, 82 staff.
Transformative Idea Grant: $13,643 awarded, impacting 1,845 students, 100 staff.
Expanding Partnerships
Sarah Johnson of Eldorado High School and Andrea Sullivan of Del Norte High School are all exploring different ways in which to enhance learning and restorative environments at their school. By creating safe and welcoming spaces, their goal is to keep students on campus when the day becomes overwhelming and to find the support they need by building relationships with their teachers and staff.
Led by Lena Fahrenkrog, Garfield STEM Magnet Middle School will expand its partnership with Cottonwood Gulch to provide outdoor learning opportunities to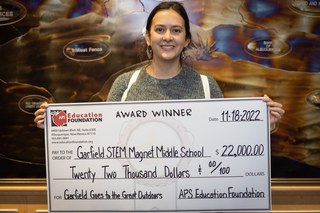 its entire student population. Ms. Fahrenkrog wrote, "We take students who have spent a majority of their lives not leaving the North Valley to experience the natural beauty of their state. Students leave behind all their technology (even their beloved phones). While unplugged they will engage in hands-on learning and embark on a memorable adventure."
The Guhl Early Literacy Award went to the APS Early Childhood Department to equip Special Education classrooms with books that better represent the rich and diverse cultures of our youngest learners.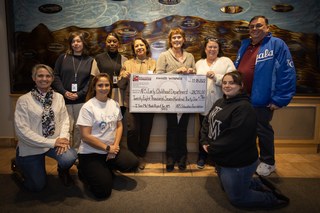 Laura Wallin wrote, "We believe that by embedding multicultural literature in the Special Ed classroom, we can effectively assist students in imagining the lives of others, and through this chance, a process of envisioning the perspective of diverse cultural groups may initiate."