News from the Foundation
Posted:
September 12, 2013
A is for Art! to Highlight Talented Teachers, Too
10 APS art teachers donated pieces for the annual art auction/gala on Sept. 20 at Hotel Albuquerque benefiting fine arts programs and the APS Education Foundation.
Digital collage by Lisa Gillett of AHS.
Reserve your spot by September 13
. Ticketless reservations will reduce stress and ease check-in. Tickets are $25 for adults, $19 for teachers and $10 for students.
When you see the artwork donated by 10 Albuquerque Public Schools teachers for the A is for Art! silent auction next week, you understand why the district has so many talented student artists.
The nearly 200 student pieces that will be auctioned beginning at 5 p.m. at Hotel Albuquerque on Friday, Sept. 20, reflect skills and technique honed in the classrooms of teachers like Ann Bromberg and Margie Weinstein of Sandia, Cate Eaves and Lisa Gillett of Albuquerque High, Camilla Haneberg of nex+Gen Academy, Ann Mafchir and Sheldon Richards of Eldorado, Sarah McHaffie of Cibola, Mike Thornton of Valley and Peggy Trigg of Volcano Vista.
In addition, three teachers – Gillett, Trigg and Nikki Turman of Del Norte – helped their students transform vintage student desk that also will be auctioned.
Proceeds from these teachers' paintings, photographs, ceramics, desks and more will benefit their programs as well as other fine arts programs throughout the district and the APS Education Foundation.
Among the teacher auction items is a digital collage by Gillett titled "It's Been a Long Time Since I heard the Sound of Your Voice." The image is her version of a contemporary mandala, Buddhist or Hindu symbols used in meditation and ritual.
"In my mandala-like images, I use toys, fabrics and accessories that I have kept for years," she said. "My digital collages bring order to the chaos. The past comes to life and enters the present."
McHaffie's passion in photography, which she teaches at Cibola along with computer graphics. She has donated two photographs to A is for Art! "Any image that reminds me of time passed is a shot I have to take – whether it be a portrait, a flower, a church or whatever stirs up my passion," she said. "I carry my camera everywhere I go. I hope to teach my students to find that passion in themselves."
Weinstein has been teaching art classes including ceramics and jewelry for 14 years at Sandia. She was a studio potter for 25 years. The two bowls she donated to A is for Art! are hand-thrown, hand-painted porcelain.
Trigg's painting of Placitas was created on site using acrylic paints. "I love to paint en plein air," she said.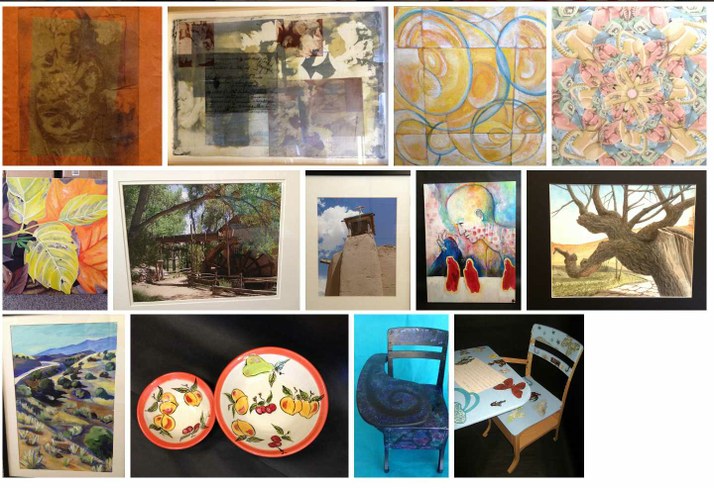 View the slideshow