News from the Foundation
Vote for Best in Class
Each year the APS Education Foundation recognizes three grantees who have made an impact on student achievement through innovative programs. Now it's your chance to cast your vote for your favorite.
The goal is to spread best practices in education and grow successful programs so that more students have access to new experiences and opportunities.
The three finalists were chosen by the Disbursement Committee of the Foundation's Board of Directors. The public can now vote online for their favorite program. Online voting will continue through March 21.
The winner will be announced at the Gold Bar Gala on March 22 at Sandia Resort & Casino. First place gets $15,000 to grow their program, $10,000 goes to second place and $5,000 goes to third.
4-H School Wide Club, Collet Park Elementary School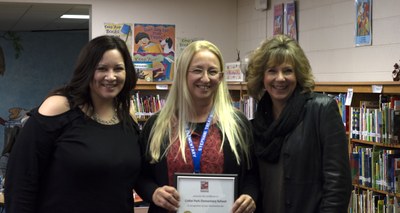 After noticing an overall lack of interest in classroom learning leading to increased behavioral issues and poor attendance, Collet Park Elementary School began to incorporate 4-H curriculum in their everyday learning. With the support of an APS Education Foundation Guhl Literacy Award in 2016, Collet Park implemented the 4-H School Wide Club.
Using 4-H curriculum that is research-based, common core aligned and high interest, the 4-H School Wide Club introduces experiential learning to students and staff. Students read, write, present and create on topics that are of interest to them.
For example, every Friday afternoon students attend a club meeting, where they learn and participate in 4-H projects such as sewing, building, cooking, planting and raising animals.
As a result, student motivation to learn, attendance rates and academic performance have drastically increased. Chronic absence rate decreased from 23 percent to 7 percent. Academically, Collet Park witnessed a 6.33 percent growth in school grade score after the first six months of implementing the 4-H Club!
An unexpected added bonus is the increase in school volunteers. Ten new weekly volunteers were added to the project. Today the club has 350 members and is the only 4-H school in the state.
Collet Park looks forward to collaborating with other elementary schools to share best practices and expand the 4-H model. Since implementing the program, schools throughout the state have taken an interest with some schools visiting to see the program firsthand.
Additionally, Collet Park is working alongside New Mexico State University to develop a curriculum for an experiential teacher training.
The overall goal is to create a train-the-trainer series to help implement the 4-H program in other schools and provide further professional training for current teachers. Best In Class funding would support 13 hours of teacher training including a full day training in the summer followed by two hours each trimester.
Reward Incentive Program, Kennedy Middle School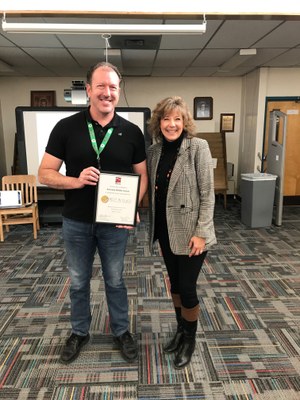 As a 2016 Blue Sky Award recipient, Kennedy Middle School successfully implemented a new student incentive program to improve classroom behavior, attendance and academic outcomes. Through the program, individual students earning a 3.0 GPA or above along with those who have perfect attendance earn various prizes and rewards such as Kennedy t-shirts, medals, pencils, pens, backpacks, yearbooks and bumper stickers for parents to proudly display.
Students, particularly those with repeat behaviors, may earn a breakfast party by participating in problem-solving circle conferences.
The Reward Incentive Program recognizes students at the grade level as well. Grade levels with the highest growth in English Language Arts (ELA) and math short-cycle assessments receive an end of the year field trip to the New Mexico Museum of Natural History and Science or Explora!
The Reward Incentive program utilizes state testing results and short cycle testing results to identify and measure the level of performance for each grade level.
The program is implemented school-wide, impacting approximately 500 students.
Students learn how to advocate for themselves and take ownership of their education and decision-making. As a result, there has been a nearly 30 percent decrease in discipline referrals. Program results also indicate a major growth in test scores, higher attendance rates and an increased understanding of assessments and state testing scores among students. Students know where they are in their grade level according to the i-Ready and are able to plot their own progress with data folders during advisory class.
Best In Class funding will enable Kennedy Middle School to purchase the following supplies and materials needed to sustain the current program: silver medals, gold medals, Kennedy t-shirts, trapper keepers (binders), pouches for school supplies, school supplies (pencils, pens, highlighters, calculator, erasers), yearbooks, honor roll and perfect attendance bumper stickers and breakfast parties for positive behavior.
Chaco Canyon Project Based Learning, Eldorado High School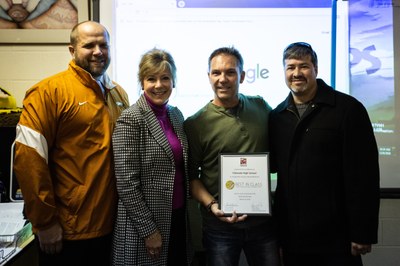 Chaco Canyon Project Based Learning is an extraordinary collaboration that links students with professionals, local businesses and government agencies in order to create real-world fieldwork and solutions to actual problems.
 High school students work in their science classes on environmental resources, in their history classes on researching the local community, and in an anthropology class and club on cultural studies.
During Fall 2017, the Chaco Canyon Project was selected as an Achieve Award recipient and received $8,615. With funding, students successfully created a Student Activity Center featuring a visitor app for Chaco Canyon National Historic Park to help attract teenage visitors to tour the area.
Within the app, students created "Go Chaco Go", an interactive scavenger hunt to educate young visitors about the cultures and the environment in which the ancestral pueblo people lived when they are exploring the sites at Chaco Canyon.
National Park Service and Chaco Culture National Historical Park collaborated with the project to provide professional training, research, and instruction. Students also received professional training in the use of scientific devices, such as compass and GPS, and computer technology and online programs for GIS and mapping.
Students camped on the site for three days in the fall and three days in the spring as part of their fieldwork.
The Chaco Canyon project has garnered attention nationally and internationally from National Geographic to an international preservation institute. Students most recently collaborated with Roosevelt Park to create a video for National Geographic. With the video, students hope to have their teacher become a National Geographic Scholar and bring further attention to the project. By reaching out to other classes, 250 students are impacted through the project.
With continued funding, students plan to further research on monuments around New Mexico, specifically Chaco Canyon National Monument and spread awareness on lesser-known national parks, such as Canyon de Chelly. Students will use the technology of photogrammetry, the science of making measurements from photographs, to record both site architecture and to record artifacts in 3D.
Best In Class funding will enable students to create a Maker's Lab that will contain cameras (including a WiFi 3D camera), Cascable WiFi Camera Toolkit software to connect the cameras to tablets and phones in the field, a 3D printer to create copies of artifacts and landscapes, 5TB hard drives to store the massive amounts of pictures and data, GPS Map 66s for collection of exact coordinates in the field, equipment and supplies for stations in the Maker's Space and equipment and supplies needed in the field, and a bus to travel to the field.
Learn more about the Best In Class nominees and the Gold Bar Gala by visiting the APS Education Foundation's website at www.apseducationfoundation.org.