Classroom & Grade Level Learning
Classroom grants in the areas of STEM (Science, Technology, Engineering, and Math), fine arts and literacy, ranging from $1,500 for a single classroom and $5,000 for a team of multiple classrooms.
About the Award
Award Amount is between $500 and $5,000. Classroom & Grade-Level Learning grants are specifically targeted towards projects in three key areas: STEM, Fine Arts, and Literacy.
From Our Grantees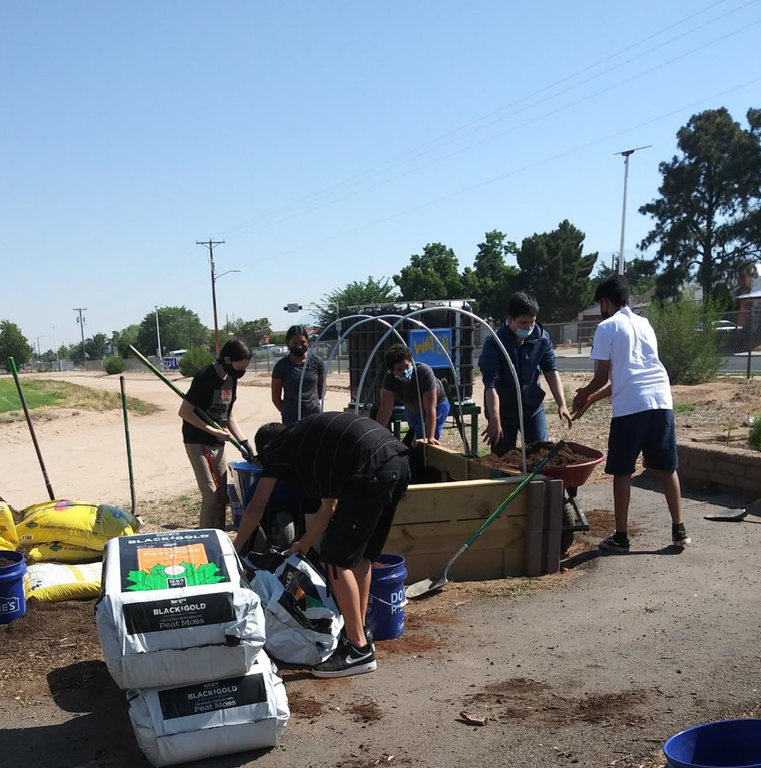 From Grantee Susan Schipull, "From the very beginning, Wildcat Blooms garden on the Wilson Middle School campus, has been a space that welcomes all students to work as gardeners, builders and environmental advocates.  Our program consists of four Garden Elective Classes, outdoor learning opportunities, a multi-layered internship program and a strong community connection.   We are now reaching over 100 students each year.  Our curriculum allows students to explore our environment, sustainability, career opportunities and of course, plant growth and food production.  Students are at the core of all we do in the garden.  Our 11-13 year old students are at an important point in their lives, as they begin to make choices that will affect and determine their futures.  The garden program provides opportunities for students to explore their interests and find their own voice.  Caring for the garden gives them a sense of purpose.  It is not only a learning experience, but the garden is also a place for students to ground themselves, reset and find a sense of belonging.  As one of our interns put it, 'We take care of the land and it gives us the gift of food we can actually eat!'  
We have built our program basically one grant at a time.  From our vegetables and fruit garden to our pollinator garden and our hydroponics/grow room, each piece is in place because of support from organizations like the APS Education Foundation.  We thank them for helping us grow in our work with students over the past 12 years!" 
Year in Review
Funding data for 2022-2023.
Awarded: $35,094.00
Requested: $84,826.00
Funded: 13 out of 26 applications
Students Impacted: 1941
Information for APS Employees
Eligible Applicants
APS K-12 schools and APS Departments are eligible to apply, which includes teachers, educational assistants, librarians, counselors, social workers, and other school personnel. Applicants may apply as individuals or as part of a group.
All applicants must certify that the principal or immediate supervisor is aware of the proposal and supports the application. Grants will not be funded without the support of school administration.
Only APS employees may submit applications. APS traditional and magnet schools are eligible to apply.
Eligible Proposals
Proposals must meet the following criteria:
Build on student engagement, academic experiences, and positive student outcomes in the areas of STEM, Fine Arts, and Literacy.
Have clearly defined goals and measurable outcomes to determine the success of the project.
Have a realistic budget and use the award to cover teacher stipends, purchased services and/or supplies and materials within the proposed activity.
Does not include requests for facilities needs within budget.
Demonstrate an effort to raise funds through other sources in an effort to sustain the proposed project.
Be prepared to implement the project (staff availability, activities in place) upon receiving the grant.
Selection Process and Criteria:
Grant applications are reviewed by a selection committee of APSEF Board members and community volunteers. 
The Classroom & Grade-Level Learning grant application utilizes a "blind" review process, meaning grant applications are ranked and reviewed without identifying the school.  Applicants who use identifying names in the narrative may be disqualified.
Primary consideration will be given to proposals that:
Impact the maximum number of students
Include a creative and innovative teaching/learning approach
Can be modeled for future programs and learning
Grant Term and Amount
Classroom & Grade-Level Learning grants are available during the Fall grant cycle. Awards may be available in the spring cycle if funding is available.
If requested, the Foundation will consider requests to carry over funding to the next school year on a limited basis.
Grant Amount
Between $500 and $1,500 for an individual project, targeting a single classroom 
Between $500 and $5,000 for a team project, targeting multiple classrooms
Reporting Requirements
Grant winners are required to report on project outcomes at the end of the grant period. Final reports must be submitted to the APS Education Foundation. Award winners may be ineligible for future funding if this report is not received.
Award winners should also be willing to host site visits, provide success stories, and assist the Foundation with promotional activities.
Other Considerations
Agreements or partnerships with outside nonprofit groups should have the approval of APS administration. Funding will go to the school, and NOT directly to an external partner.
Projects funded through Classroom & Grade-Level Learning grants are school-specific. If a teacher changes schools before the implementation of the grant, funds must be returned to the APS Education Foundation.